Air fryer hot dogs are quick and easy to make. In less than 10 mins, you've got crispy skinned hot dogs with juicy insides. Ready to be served on its own, with salads or in a hot dog bun topped with ketchup and mustard or even some sauerkraut or relish.
Save some time and make these juicy hot dogs in your air fryer instead at your nest summer barbecue party! While we are at it, let me show you how to make this grill season favorite, indoors and in your air fryer.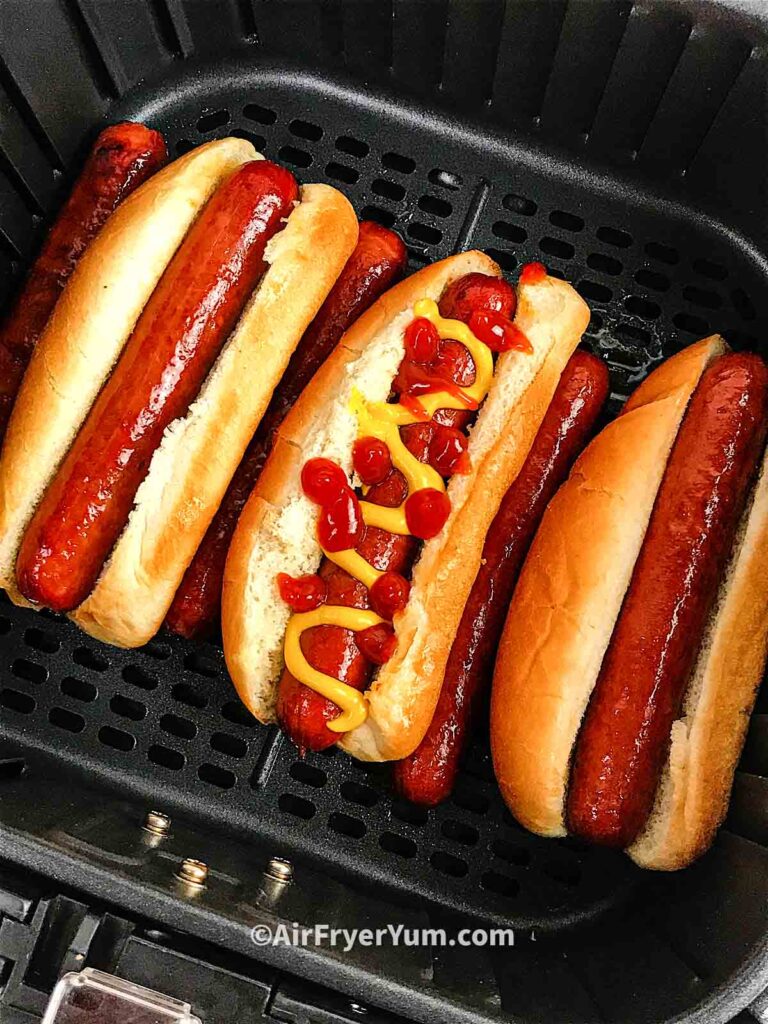 EASY AIR FRYER HOT DOGS RECIPE (BEEF FRANKS IN AIR FRYER)
Can you air fry hot dogs? Yes, the air fryer is actually one of the best ways to make hotdogs. Whether you are making beef hot dogs, Turkey hot dogs or pork hot dogs, you'll love how these turn out.
The air fryer gives these sausages the grill feel without turning on the grill. You might be missing the signature grill marks. Please  believe me it's as good without those.
From making hot dog burnt ends, split / butterflied hot dogs or even cocktail hot dogs aka wieners or smokies, the air fryer is sure to please.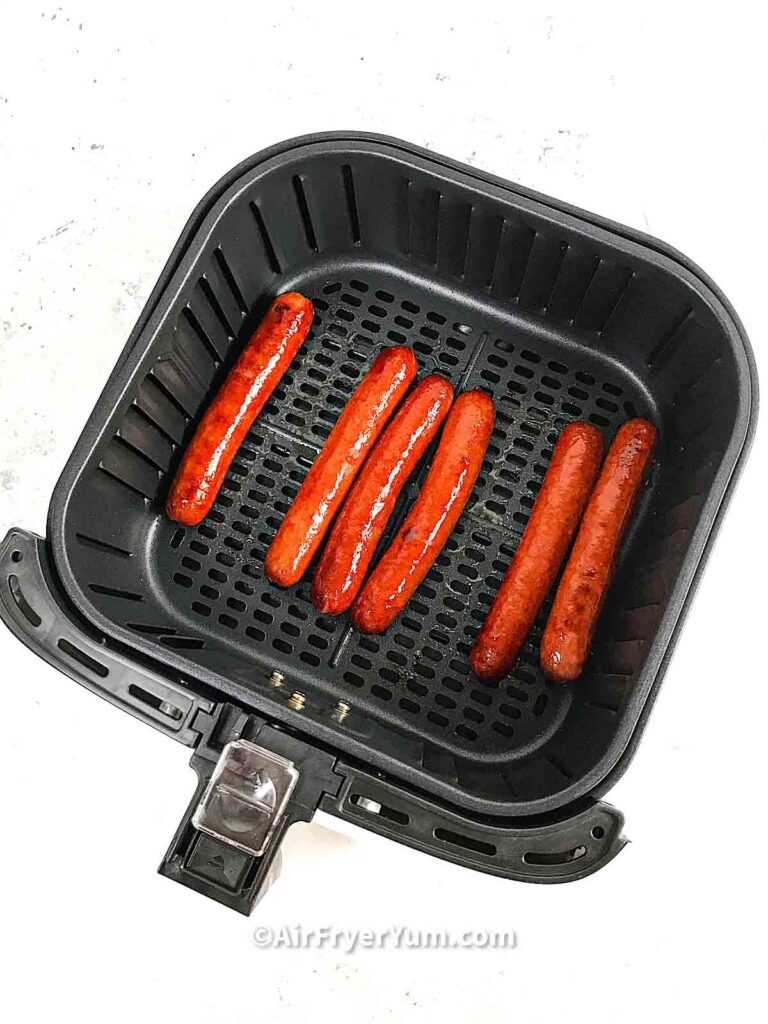 WHY YOU'LL LOVE THIS
Quick and easy: Air fryer hot dogs are faster than oven baked hot dogs. There's no need to turn on your oven to make these and it's no longer restricted to the outdoor or indoor grill.
Low carb and keto friendly: Hot dogs are low carb and keto friendly meal without the carby bun. Simply swap out the bun with this keto hot dog bun or serve it up in a salad as a source of protein and you've got yourself a nice low carb dinner.
Versatile: It can be elevated from a street and snack or meal to dinner by adding some potatoes and onions to make Air fryer potatoes and sausage or you can easily make some hot dog salad with these by throwing in your favorite healthy veggies and topping with a yummy salad dressing.
Consistent results: Cooking hot dogs in air fryer yields consistent results. This is also an air fryer beginner friendly recipe. The results are consistent across air fryers whether it's the Cosori, Gourmia, Ninja or Instant Vortex, this isn't a recipe that can get messed up. Older kids (teenagers and college students) can easily fix this so it's a win win!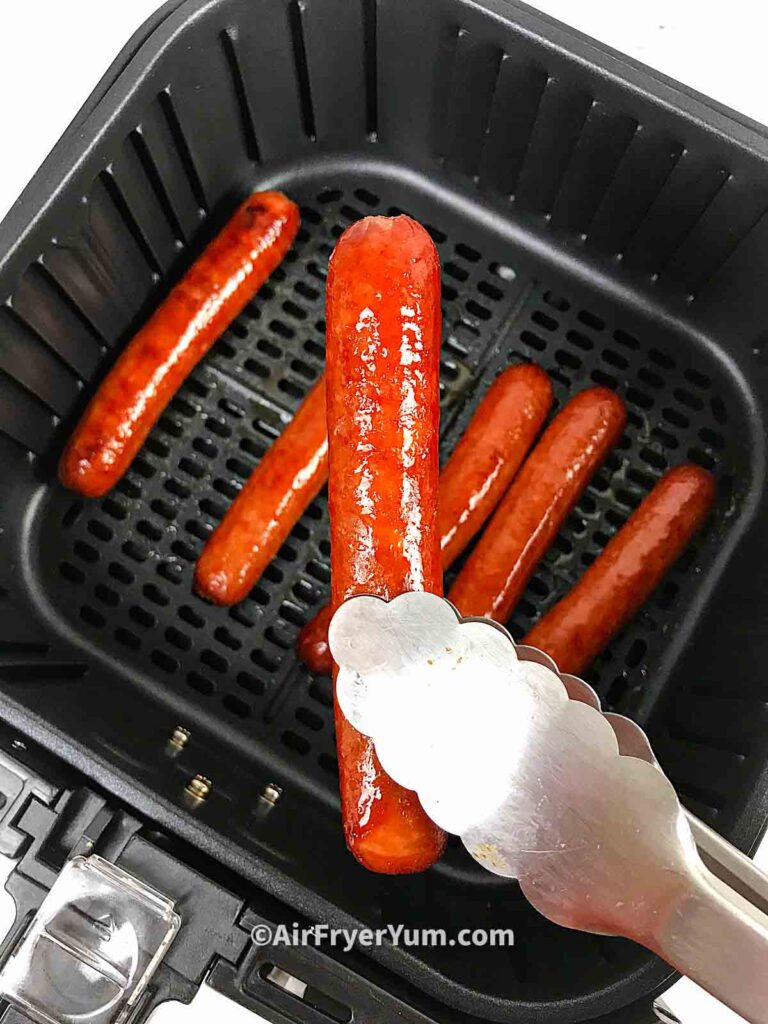 FAVORITE HOT DOG BRANDS
Nathan's famous
Hebrew National
Costco brand (Kirkland beef hot dogs)
Sabrett frankfurters
Ball park
Applegate
WHAT YOU'LL NEED TO MAKE THESE JUICY AIR FRYER HOT DOGS
Your favorite brand of hot dogs
Hot dog buns
Hot dog toppings (see list below)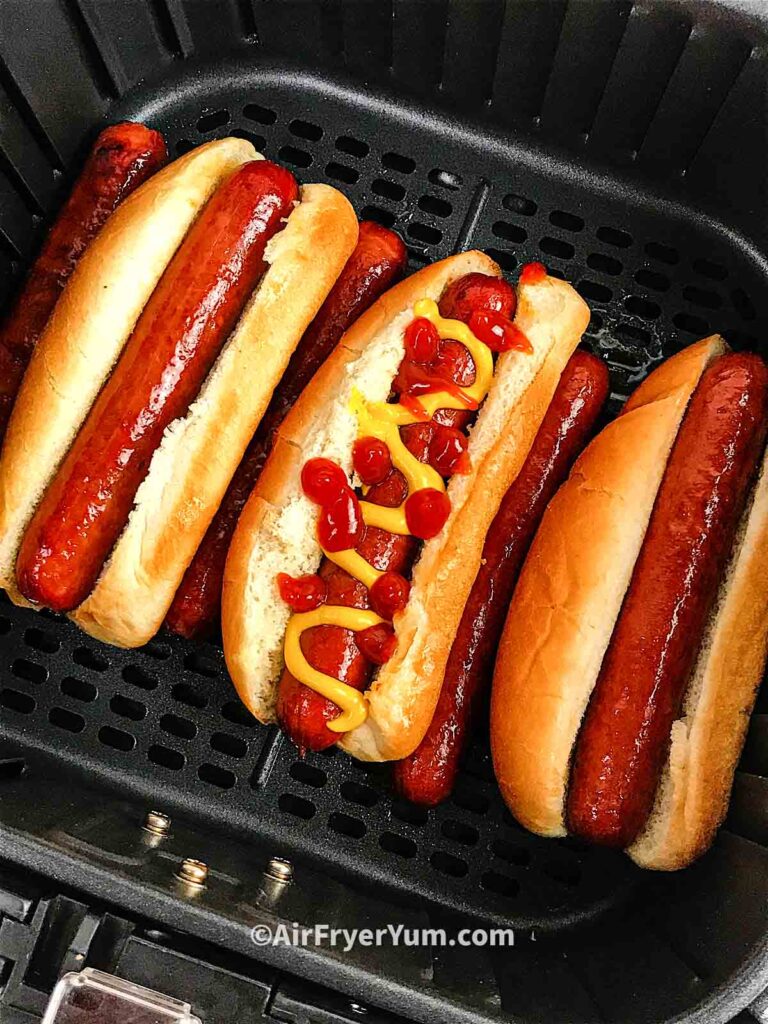 HOT DOG TOPPINGS
You can easily create a hot dogs toppings bar. What do you like as a topping on your hot dog sandwich besides the standard ketchup and mustard. Get creative with it, it's your hot dog remember? Below are some of our suggestions which includes our favorites
Pickles
Caramelized onions (which you can also make in the air fryer by the way)
Sauerkraut
Sriracha sauce
Freshly chopped Onions
Chilli
Fries
Cheese
Guacamole
Bacon
Tomatoes
Baked beans
Jalapeño
Salsa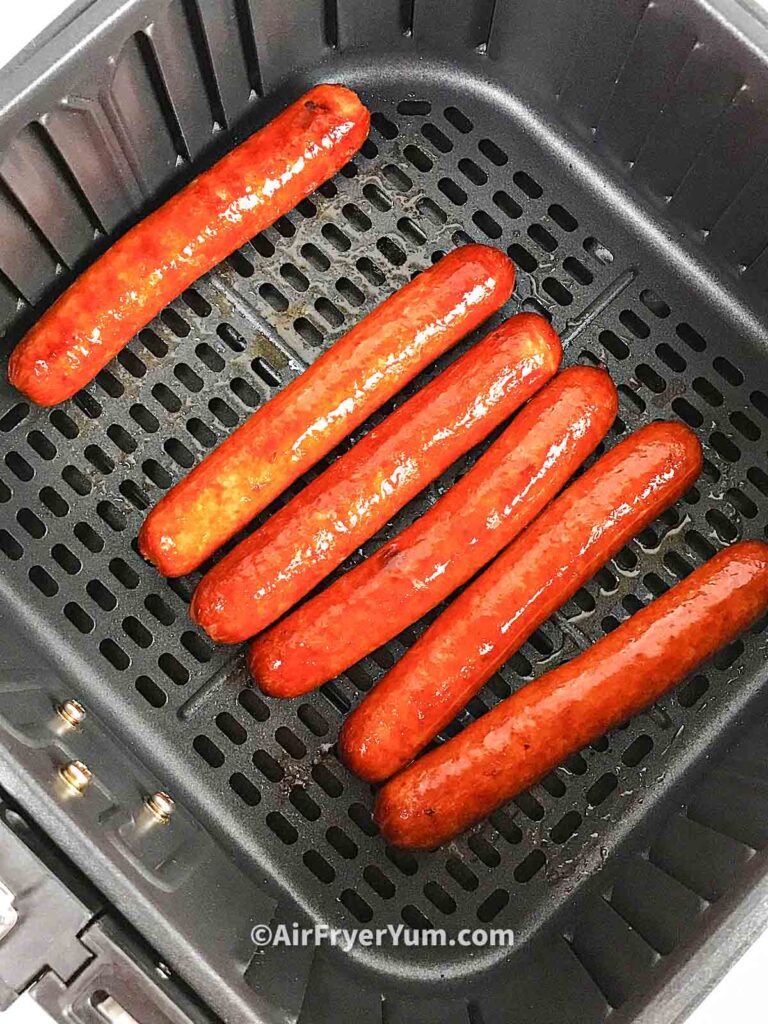 HOW LONG DOES IT TAKE TO COOK HOT DOGS IN AIR FRYER?
Hot dogs cooks to perfection at 400°F / 200°C for 8 mins in a non preheated air fryer. If you cook at a lower temperature like 350°F / 180°C expect these to cook for up to 10 mins depending on the air fryer was preheated or not.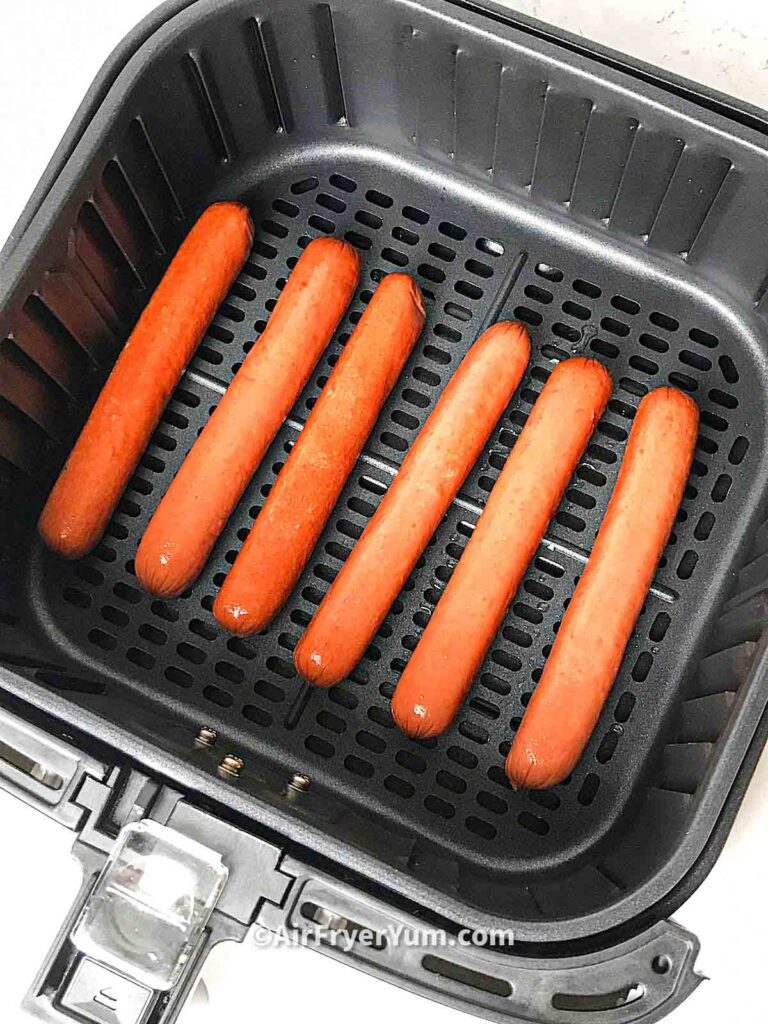 HOW TO AIR FRY HOT DOGS
This is an overview of the recipe with step by step photos. Scroll down to end of post for a printable recipe card with the amount of ingredients and full recipe instructions.
As mentioned several times already, this is super easy. Literally dump and bake. Here are the steps to follow
Place hot dogs in a single layer in an air fryer basket or tray.
Set temperature to 400°F / 200°C and cook for 8 mins! Add a minute or two if yuu like your hot dogs with a bit of charred skin.
Place the cooked hot dogs in the burn and return to the air fryer. Let the residual heat warm up the bread.
Get the warmed sandwich out and top with your favorite toppings. Enjoy
WHAT TO SERVE WITH AIR FRYER HOT DOGS
These can be enjoyed on its own as a snack. Or served on hot dog buns with your favorite toppings. Air fryer hot dogs can be served on a bed of lettuce or heathy greens. It can also be cooked with potatoes for a meal of hot dogs and potatoes.
STORING AND REHEATING HOT DOGS
Air fried hot dogs will keep in the fridge for up to 5 days. Let it cool completely before stopping in an airtight container in the refrigerator.
To reheat pop in the microwave and reheat at 20 mins intervals till warmed through. It could take up to 90 seconds depending on the quantity you are reheating.
Reheating in the air fryer is also easy. Place hot dogs in air fryer basket or tray and reheat at 350°F / 180°C for 3 to 5 mins or until warmed through.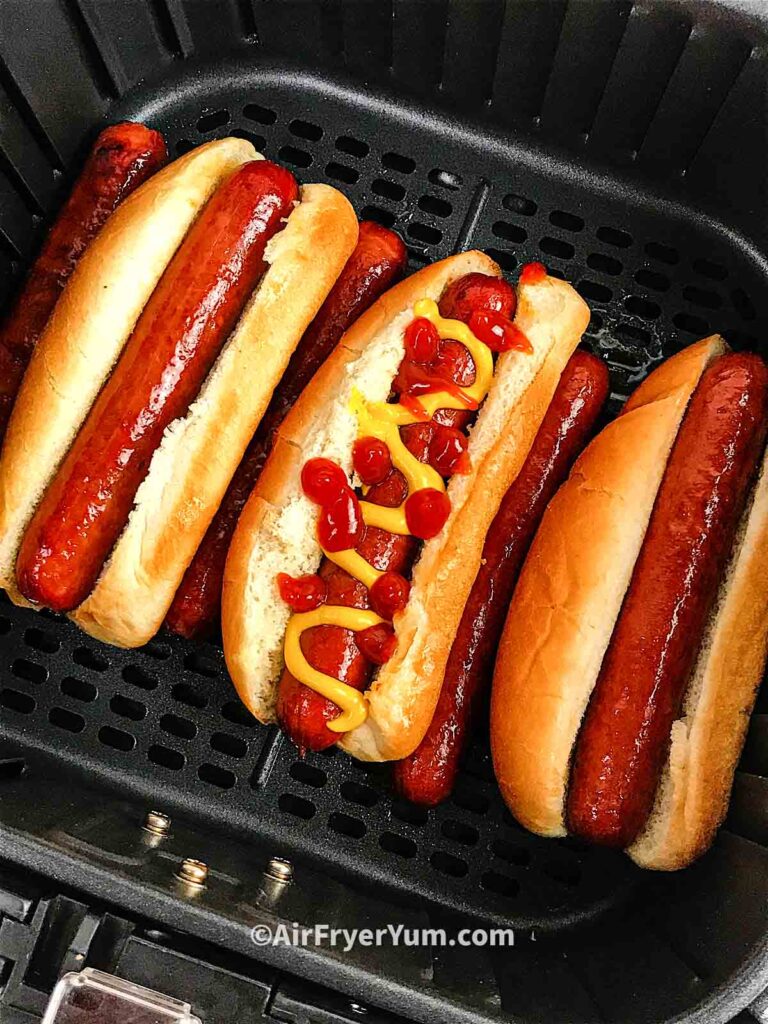 AIR FRYING TIPS
You do not need to poke holes or make slits on the hot dogs for them to cook perfectly.
No need to Preheat the air fryer to cook hot dogs.
FAQS
HOW MANY HOT DOGS CAN FIT IN AN AIR FRYER BASKET?
This would depend on the size of the air fryer. Generally 10 hot dogs can fit comfortably in a Cosori basket (5.8qt model) without needing to overlap. 12 to 14 would fit in the Cosori dual blaze. 10 would fit in a Gourmia 6qt and Ninja XL.
If you have dorm room sized air fryers for college students, those are usually the smaller air fryers between 2 qt to 4 qt, they would fit 4 to 6 hot dogs.
CAN YOU COOK FROZEN HOTDOGS IN AIR FRYER
Yes you can. It's super easy too with no need to thaw. Cook frozen hot dogs in air fryer. It only takes a couple of minutes more to cook them straight from frozen. A total time of 13 mins should be ideal.
WHAT IS THE BEST TEMPERATURE FOR TO AIR FRY HOTDOGS?
Personally I found 400°F / 200°C to work best for me. It's hot enough to get the hot dogs cooking as soon as they get in and also gets me some slightly charred hot dogs faster.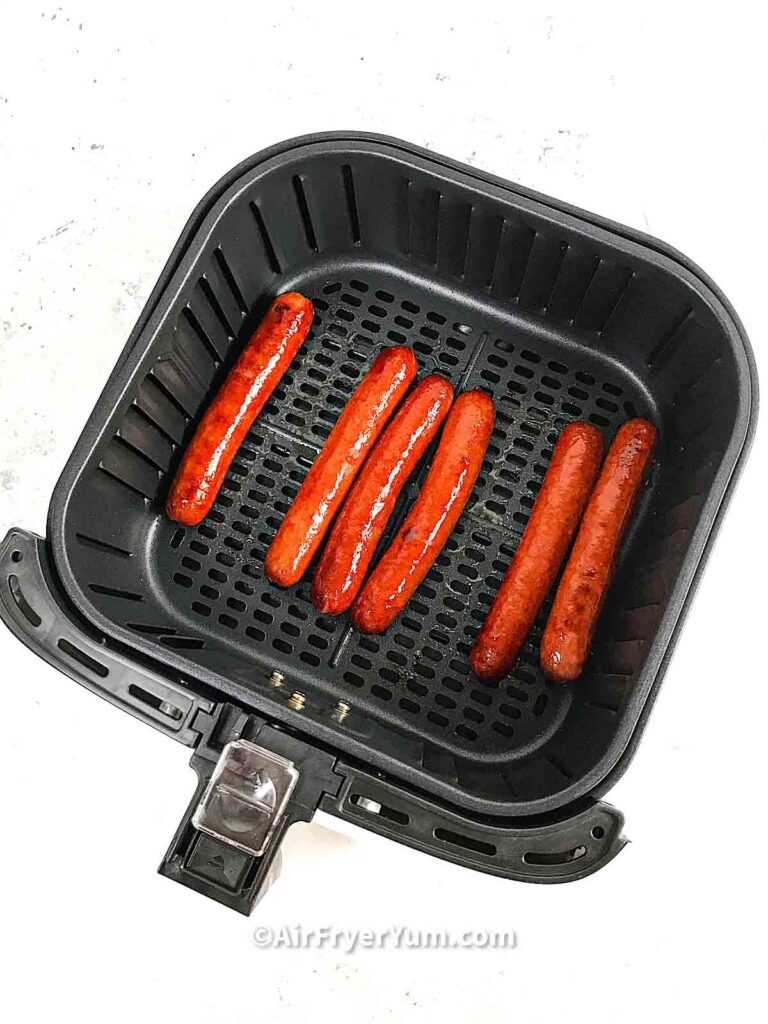 INGREDIENTS
Serving suggestions
6

 

Hot dog 

buns

¼ 

Cup 

ketchup

¼

 

Cup 

mustard
INSTRUCTIONS
Air fry the hot dogs
Place hot dogs in air fryer basket. Set temperature to 400°F / 200°C and air fry for 8 to 10 mins.

Remember to shake the basket or flip the hot dogs half way through cooking time to ensure they cook evenly on all sides.
Warming the buns
When the hot dogs are cooked. Put the hotdogs in the buns and place in the air fryer basket and let the residual heat warm it up. If you prefer the hot dog buns lightly toasted, place it in there with the hot dogs in the last 1 to 2 mins of the hot dogs being cooked.
NOTES
No need to preheat the air fryer. If you do, cook hot dogs for  less time. Start checking for doneness at 6 mins.
If cooking with an air fryer oven like the instant pot vortex oven cook in the middle rack for a couple less minutes because it automatically preheats for 5 mins
Do not over crowd the basket and be sure to flip the hot dogs half way through cooking time.
Feel free to join our new group