Ingredients
You'll be happy to know that the ingredients are pretty simple and flavorful. Feel free to adjust veggies or style of steak based on your preferences.
Flank steak
Broccoli
Mini red peppers
Onion sliced thinly
Fresh snow peas
Green onions sliced for garnish
Sauce:
Minced garlic
Soy sauce
Sesame oil
Beef broth
Brown sugar
Cornstarch
Side Dish:
How to Make Chinese Beef in the Instant Pot
In just 35 minutes, you can be enjoying this amazing meal idea. Dinner just got a lot easier and more flavorful! Let's get started so you can make your own soon.
First Step: Mix together the soy sauce, sesame oil, minced garlic, beef broth, and brown sugar into a small bowl. Use a whisk to mix together.
Second Step: Place the sliced steak in the Instant Pot insert and pour the sauce on top.
Third Step: Close the lid of the Instant Pot and make sure the vent is in the sealed position.
Fourth Step: Manually cook for 10 minutes.
Fifth Step: After 10 minutes is up, do a natural release for 10 minutes, then a quick release to remove the pressure.
Sixth Step: Take the steak out of the Instant Pot and set it aside.
Seventh Step: Turn the pressure cooker to the saute setting and whisk in the cornstarch. Whisk it constantly until it has thickened.
Eighth Step: Return the beef back in the pressure cooker and stir.
Ninth Step: Put the broccoli in the Instant Pot and stir until it's warm.
Tenth Step: Serve over a bed of steamed basmati rice.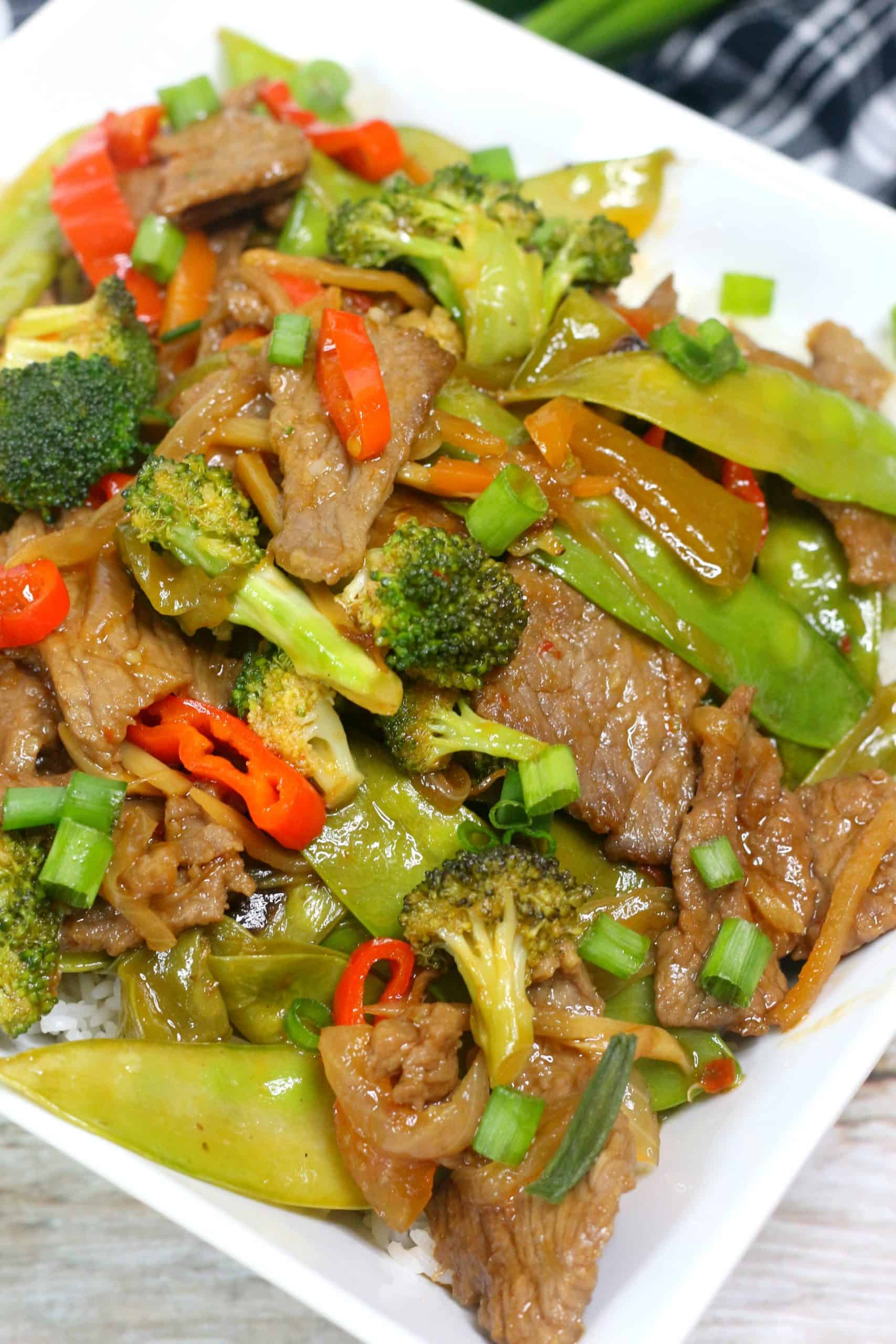 Now, remember to save this recipe on Pinterest for later 🙂
Ingredients
3 lbs flank steak
4 cups chopped, small broccoli
½ cup sliced mini red peppers
1 onion sliced thinly
2 cups fresh snow peas
Green onions sliced for garnish
Sauce
2 tbsp minced garlic
1/2 cup soy sauce
2 tbsp sesame oil
1 cup beef broth
1/3 cup brown sugar
3 tbsp cornstarch
Side steamed basmati rice
Instructions
Combine the sauce ingredients garlic, soy sauce, sesame oil, beef broth and brown sugar together in a small bowl & whisk.
Add your sliced steak to the Instant Pot then add your sauce mixture.
Close the Instant Pot lid, close the seal.
Cook on manual for 10 minutes.
Natural release for 10 minutes & then do a quick release.
Remove beef from pot & set aside.
Turn off the Instant pot & then turn it on to saute
Whisk in cornstarch & stir until sauce thickens.
Add the beef back in & stir.
Add in steamed broccoli.
Serve over rice.
source : https://sweetpeaskitchen.com/
Feel free to join our new group