Sheet Pan Sausage and Veggies makes for the best simple, filling, and nutritious dinner with virtually no cleanup! Toss this killer seasoning blend with your favorite veggies and smoked sausage and then roast them all to perfection. Top with freshly grated Parmesan cheese and enjoy as is or over a cooked grain.
Pair Sheet Pan Sausage and Veggies with a quick and simple salad like this Cucumber salad or Fruit salad recipe.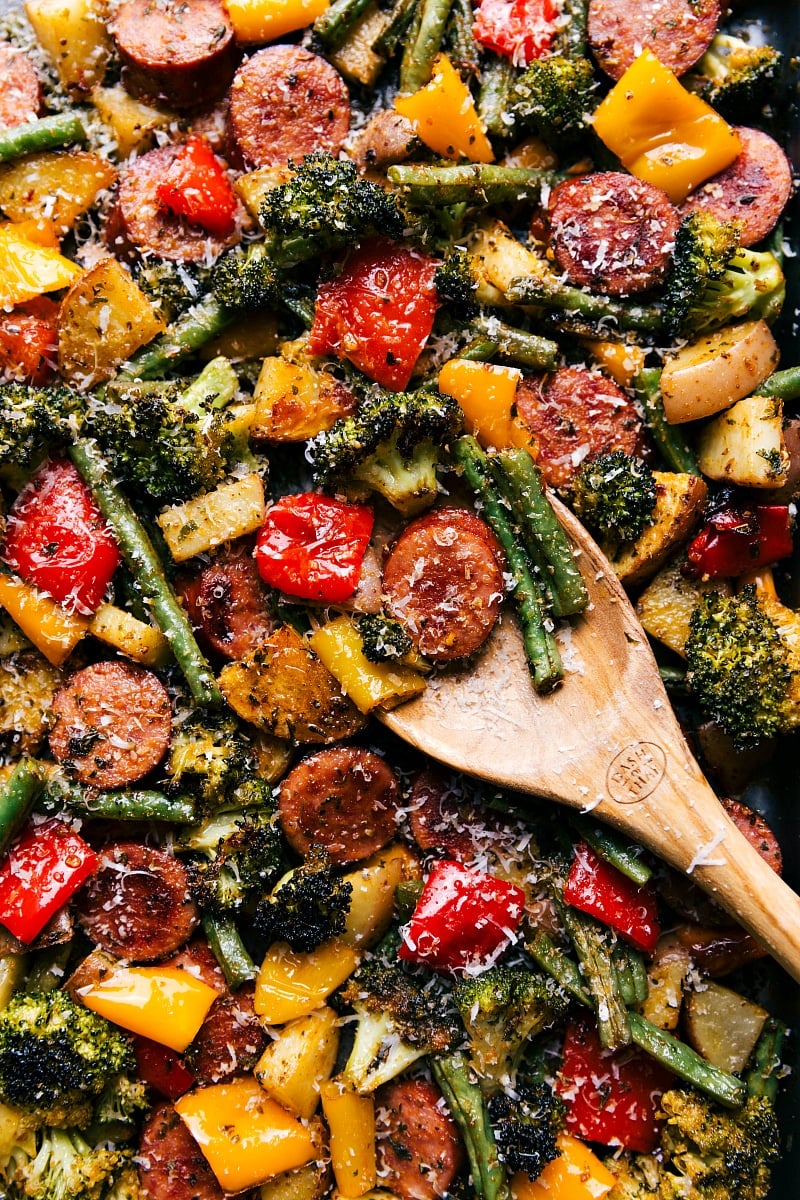 Sheet Pan Sausage And Veggies
This Sheet Pan Sausage and Veggies is easily the most popular meal at my home. It's a hit with the kids, and my husband– and I love it as well!
Start by tossing loads of veggies and smoked sausage with olive oil and the best seasoning blend. This meal has it all: quick prep, practically nonexistent cleanup, inexpensive to make, and every single bite is loaded with flavor. Who says healthy can't also be downright delicious?!
I hope you love this one-pan healthy dinner as much as my family does!
Variation Ideas
This recipe is very forgiving and can easily be customized to fit your personal preferences. Below are some variation options:
Veggies: Use whatever veggies you like best, but keep in mind that root veggies typically take longer to bake. Because of that, you'll want to cut them quite small so they'll cook at the same rate as the other veggies. Some veggies that would work great in this dish are cauliflower, Brussels sprouts, green or red bell pepper, diced sweet potato, summer squash, zucchini, onion, and/or cherry tomatoes.
Swap potatoes: We love baby red potatoes, but baby gold (Yukon) potatoes are another favorite and work well in this meal. Whatever potatoes you use, make sure they are chopped into small pieces, so they'll cook in the indicated amount of time.
Spice levels: If you like a hit of spice, add the optional red pepper flakes or sprinkle red pepper flakes on individual plates. If heat isn't your thing, leave them out — no other changes necessary!
Add a sauce: While we love Sheet Pan Sausage and Veggies as is, but if you'd like some sort of sauce, I'd recommend a good basil pesto or similar herb sauce (like a chimichurri). For a creamy sauce, I'd recommend a cilantro–lime sauce (like the one on this Shrimp Tacos recipe). One other sauce option would be a balsamic glaze.
Serving suggestions: For a more filling meal, serve this dish over cooked quinoa (how to cook quinoa here) or cooked rice. Don't forget to season the quinoa or rice with salt and pepper so the meal as a whole isn't under seasoned when served together. To keep this meal low carb, use cauliflower rice as the base.
Sausage: More on possible variations for this ingredient below!
INGREDIENTS
2

 

cups (276g)

 

diced baby red potato

3

 

cups (298g)

 

trimmed and halved green beans

1

 

large head of broccoli

 

(2 cups; 137g)

1 and 1/2

 

cups (161g)

 

chopped bell peppers

 

(2 large or 6-7 mini sweet bell peppers)

13

 

ounces (368g)

 

smoked sausage

 (See Note 1)

6

 

tablespoons (73g)

 

olive oil

1/4

 

teaspoon

 

red pepper flakes,

 

optional (leave out if you don't like heat!)

1

 

teaspoon

 

paprika

1/2

 

teaspoon

 

garlic powder

1

 tablespoon EACH: 

dried oregano, dried parsley

Salt & pepper

Serve with: fresh parsley, quinoa/rice, lots of freshly grated Parmesan cheese
INSTRUCTIONS
PREP: Preheat the oven to 400 degrees F. Line a very large sheet pan (I use this 15×21 inch sheet pan) or 2 smaller pans with parchment paper and set aside.

PREP VEGGIES: It is important to prep the veggies according to directions to ensure they all cook at the same rate. Wash and chop the unpeeled baby red potatoes. You want the pieces quite small. I halve the baby potatoes and then dice each half. This yields a total of 10-12 pieces per potato. Trim the green beans and then cut in half, chop the broccoli into florets, chop the peppers into 1-inch pieces, and coin the sausage in thick (1/2-inch) slices.

OLIVE OIL AND SEASONINGS: Place all the veggies and sausage on the prepared sheet pan. Pour the olive oil and all the seasonings on top. Season to taste with salt and pepper (I add 1/2 teaspoon of salt and 1/4 teaspoon pepper to start with). Use your hands to toss and evenly coat all the veggies and sausage with seasonings. Space everything out so it has plenty of space to cook. If veggies are crammed/overlapping they'll steam instead of roast and will take longer to cook.

BAKE: Bake 15 minutes, remove from the oven and flip/stir all the veggies around. Return to the oven and bake for another 10-15 minutes or until vegetables are crisp-tender.

ENJOY: If desired, sprinkle freshly grated Parmesan cheese over the veggies and sausage as soon as they come out of the oven. (If you aren't adding the cheese, you'll likely need to add some more salt to the dish.) Add fresh parsley if desired and enjoy immediately. Serve over cooked rice or quinoa if desired.

STORAGE: I don't recommend freezing this recipe; the veggies end up mushy upon being thawed. Leftovers will stay great in airtight containers in the fridge for 3-4 days. Obviously, there is a loss of texture, but overall it's still delicious!
Feel free to join our new group