Air Fryer Churros fried to golden perfection make a delicious dessert for your next Mexican-themed party! Freshly baked and coated with cinnamon-sugar this easy Air Fryer dessert is a lot easier to make at home than you think.
This easy churros recipe makes it so easy to create a classic Mexcian dessert at home with only a few simple ingredients. So much easier to make than deep fried and more delicious than baked churros, this recipe for homemade churros is a family favorite!
what is a churro
Churros are a dessert made from fried dough that is popular in Spain and Mexico. They are normally deep-fried but taste as delicious made in the Air Fryer.
A sweet treat air fried until golden and tossed in cinnamon-sugar that makes a great dessert for every day but is perfect for Cinco de Mayo or your next Mexican-themed party! You have to try this easy Air Fryer Churro recipe!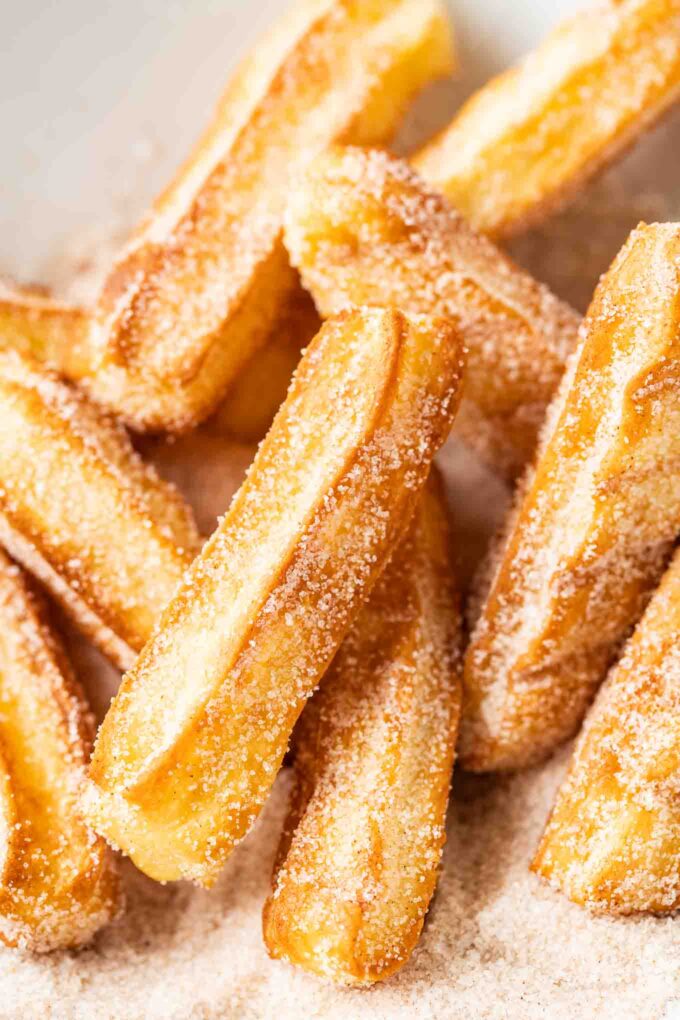 INGREDIENTS
1 cup water
1/3

 

cup

 

unsalted butter

, 

cut into cubes

2

 

Tbsp

 

granulated sugar

1/4

 

tsp

 

salt

1

 

cup

 

all-purpose flour

2

 

large eggs

1

 

tsp

 

vanilla extract

oil spray
CINNAMON-SUGAR COATING:
1/2

 

cup

 

granulated sugar

3/4

 

tsp

 

ground cinnamon
Prevent your screen from going dark
INSTRUCTIONS
Put a silicone baking mat on a baking sheet and spray with oil spray.
In a medium saucepan add water, butter, sugar, and salt. Bring to a boil over medium-high heat.

Reduce heat to medium-low and add flour to the saucepan. Stirring constantly with a rubber spatula cook until the dough comes together and is smooth.

Remove from heat and transfer the dough to a mixing bowl. Let cool for 4 minutes.

Add eggs and vanilla extract to the mixing bowl and mix using an electric hand mixer or stand mixer until dough comes together. The mixture will look like gluey mashed potatoes. Use your hands to press lumps together into a ball and transfer to a large piping bag fitted with a large star-shaped tip.

Pipe churros onto the greased baking mat, into 4-inch lengths and cut end with scissors.

Refrigerate piped churros on the baking sheet for 1 hour.

Carefully transfer churros with a cookie spatula to the Air Fryer basket, leaving about 1/2-inch space between churros. Spray churros with oil spray. Depending on the size of your Air Fryer you have to fry them in batches.

Air fry at 375 degrees F for 10-12 minutes until golden brown.

In a shallow bowl combine granulated sugar and cinnamon.

Immediately transfer baked churros to the bowl with the sugar mixture and toss to coat. Working in batches. Serve warm with Nutella or chocolate dipping sauce.