HOW TO MAKE AIR FRYER CRAB STICKS
This recipe is super simple but still needs some preparation. Take crab sticks out of the package and find a little corner to unroll them. See the picture below of how its done. Now, tear the unrolled piece in smaller parts. Not too big, not too small. Try to tear sticks in almost even size pieces.
Place all the raw chips on to the medium size bowl. Sprinkle with some salt and pepper and drizzle with olive oil. I used an olive oil spray for convenience. Get them a good stir.
Place all the crab chips evenly in the air fryer basket. Cook at 320 degrees for about 15 minutes. Check and shake the basket every 5 minutes. If some chips are already browned and crispy pull them out and continue cooking. Add more minutes if needed.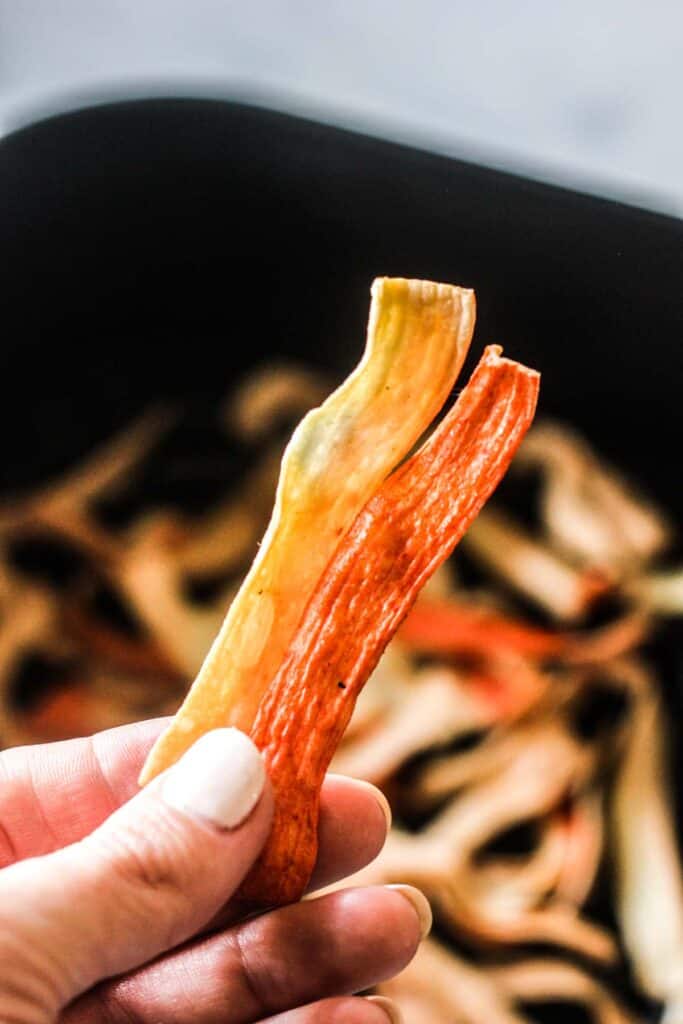 Air fryer crab sticks are a healthier alternative to a store-bought bag of potato chips. This crispy fried snack is made without a deep fryer and is a great go-to whenever you or your family is craving a snack. You only need 4 ingredients and in under 20 minutes, this delicious and nutritious snack is done. Eat them right out of the air fryer or serve as an easy appetizer for holidays or parties.
INGREDIENTS
6 oz imitation crab sticks
pinch of salt
black pepper
olive oil spray
INSTRUCTIONS
Open the package of imitation crab sticks.
Unroll each crab stick and tear it in a few pieces. Do not make pieces too large or too thin. Add to the bowl.
Add salt, pepper and spray with some oil spray. Mix
Place in the air fryer and cook at 320 degrees for 15 minutes. Shake the basket twice during cooking.
Make sure that all the pieces are crispy. If some pieces are already brown and crispy and some are not, remove crispy ones and continue cooking.
NOTES
If making more, divide in two or three batches.
Store leftovers in the air tight container in the fridge for up to a week.
Try to tear chip in even pieces for more even air frying.
Add more spices if you have favorite. A pinch of cayenne would be nice
Feel free to join our new group