Air Fryer Donuts made from scratch with yeast dough taste like the real deal. Better than baked and less fat than deep-fried! Learn how easy it is to make the perfect Doughnuts in the Air Fryer!
We love making savory Air Fryer Recipes like our Air Fryer Chicken Wings and Air Fryer Onion Rings but did you know that you can also make great desserts in it like this recipe or our Air Fryer Churros!
Instructions
-1 can Jumbo Flaky Biscuits like Pillsbury Grands
-1/2 cup granulated sugar
-1/2 Tbsp ground cinnamon
-5 Tbsp butter melted
Instructions
Air Fryer Donuts
Homemade Donuts made in the Air Fryer are soft on the outside and have a fluffy, tender interior. Dipped in a buttery donut glaze or in sweet cinnamon-sugar they make a great breakfast or treat and taste like from your favorite Donut place!
Many Air Fryer Donut recipes use canned biscuit dough which is easier but those donuts will taste like biscuits with sugar on top and not like real donuts. So save yourself the disappointment and make them from scratch. They do take a bit of time, but I promise it's a lot easier than you might think and so worth the end result!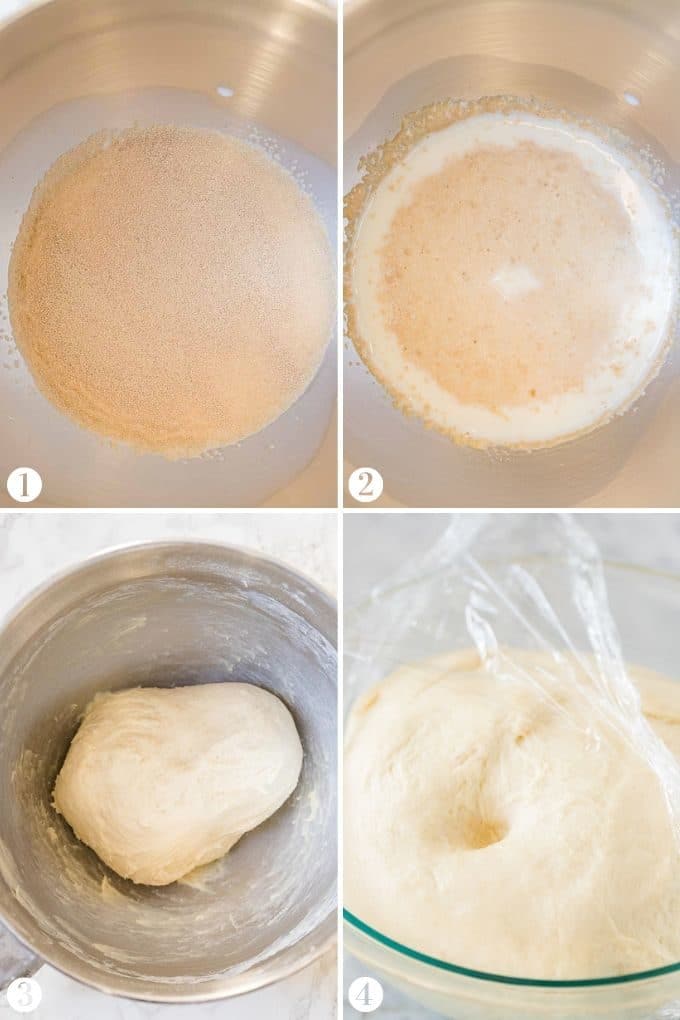 Preheat air fryer to 360 degrees. To do this, simply turn your air fryer on at 330 degrees and let it run for about 3-5 minutes.
In a medium bowl, mix together the cinnamon and sugar. Set aside.
Open the can of flaky biscuits and cut the center out of each one using a 1-inch round cutter. Lightly coat air fryer basket with coconut oil spray (you can also use olive oil spray). Do not use non-stick spray like Pam (those sprays could be harmful to your air fryer).
Place the donuts (not holes), in your air fryer. Bake for 5 minutes at 360 degrees. As the doughnuts are cooking, melt the butter.
Using a silicone pastry brush, coat the baked doughnuts with your melted butter. Then cover the donuts with the cinnamon sugar mixture by dipping and rolling around. Use a spoon to coat the top as well. Gently shake off excess cinnamon sugar. Serve doughnuts hot.
INSTRUCTIONS
GET IT NOW FOR FREE
In the bowl of a stand mixer fitted with the dough hook, gently stir together lukewarm milk, 1 tsp of sugar, and yeast. Let it sit for 10 minutes until foamy (If nothing happens your milk was too hot or the yeast is too old, so start over).
Add sugar, salt, egg, melted butter and 2 cups of flour to the milk mixture. Mix on low speed until combined, then with the mixer running add the remaining cup of flour slowly, until the dough no longer sticks to the bowl. Increase speed to medium-low and knead for 5 minutes, until the dough is elastic and smooth.
Place the dough into a greased bowl and cover it with plastic wrap. Let rise in a warm place until doubled. Dough is ready if you make a dent with your finger and the indention remains.
Turn the dough out onto a floured surface, punch it down and gently roll out to about 1/2 inch thickness. Cut out 10-12 donuts using a 3-inch round cutter and a 1-inch round cutter to remove center.
Transfer donuts and donut holes to lightly floured parchment paper and cover loosely with greased plastic wrap. Let donuts rise until doubled in volume, about 30 minutes. Preheat Air Fryer to 350F.
Spray Air Fryer basket with oil spray, carefully transfer donuts to Air Fryer basket in a single layer. Spray donuts with oil spray and cook at 350F until golden brown, about 4 minutes. Repeat with remaining donuts and holes.
While the donuts are in the Air Fryer, melt butter in a small saucepan over medium heat. Stir in powdered sugar and vanilla extract until smooth. Remove from heat and stir in hot water one tablespoon at a time until the icing is somewhat thin, but not watery. Set aside.
Dip hot donuts and donut holes in the glaze using to forks to submerge them. Place on a wire rack set over a rimmed baking sheet to allow excess glaze to drip off. Let sit until glaze hardens, about 10 minutes.
NOTES
Make sure the milk is not hotter than 115 degrees F. Using hot liquid will kill the yeast.
If you don't have an instant read thermometer, drizzle a few drops of the warmed up milk onto the inside of your wrist. It should feel warm. If it feels hot the yeast will die off, if it feels cold it will remain dormant.