Air Fryer Pierogies is easily one of the most requested recipes we get asked to make. These soft pillow-like treats are made with potatoes and cheese and are a delicious quick snack, side dish, or meal on their own.
EQUIPMENT
Air Fryer
INGREDIENTS
14 ounces pierogi frozen
1 tbsp olive oil
Optional: Sour cream, carmelized onions, mushrooms, or your favorite dipping sauce.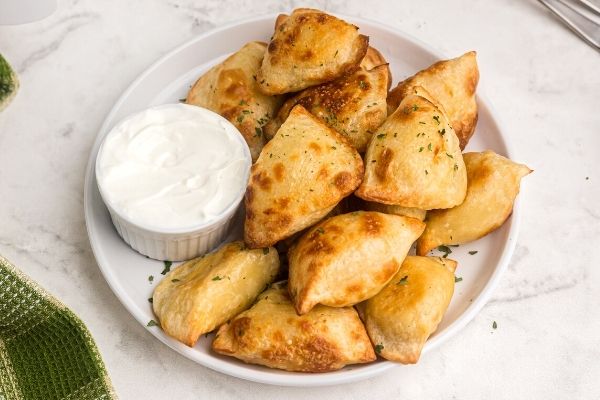 INSTRUCTIONS
Evenly lay each piece flat in the basket of air fryer. Try to keep them from overlapping or stacking so they can cook more evenly while they are air frying.
Use cooking oil spray, brush olive oil, or toss to coat, covering both sides of each piece.
Once they are lightly coated with olive oil, cook at 400 degrees F for 10-12 minutes until they have a golden, crispy texture. Turn them over halfway through cooking.
Serve warm with sour cream, onions, mushrooms, or any of your favorite toppings.
NUTRITION
Serving: 
3
oz
Calories: 
210
kcal
Carbohydrates: 
36
g
Protein: 
6
g
Fat: 
3.5
g
Saturated Fat: 
1.5
g
Cholesterol: 
10
mg
Sodium: 
280
mg
Fiber: 
1
g
Sugar: 
2
g
Vitamin A: 
4
IU
Vitamin C: 
4
mg
Iron: 
5
mg
*Nutritional information is a calculated guesstimate. Please note that this can change with different brands and modifications you may make to the recipe. For the most accurate information, use a nutritional calculator with the exact brands and measurements you're using with each recipe.
Feel free to join our new group