Air Fryer Pull Apart Bread Rolls. Delicious homemade air fryer bread rolls that are easy to prep and bake perfectly in the air fryer, actifry or air fryer oven. Mix and match ingredients based on season and much cheaper than buying bread rolls from the bakery.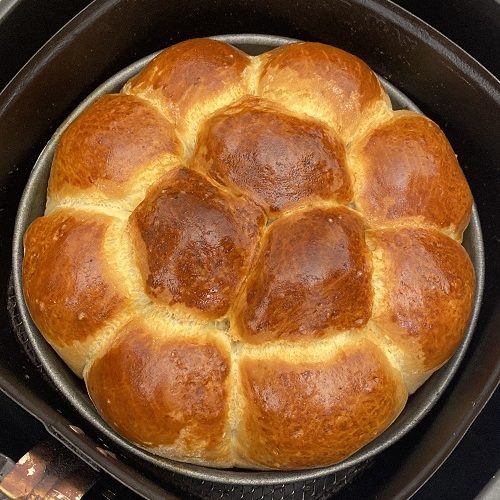 Homemade Bread In Air Fryer
Welcome to my Air Fryer Pull Apart Bread. The bread of your dreams that you can make over and over again and use for a whole variety of dishes, not just pull apart bread.
I remember the day I decided I wanted to get a bread maker in our kitchen again. It was the day that we viewed the house that we now own.
It was a summers day in 2014 and there was a lack of communication between the property owners and the estate agents.
When we arrived to view the house, the owners were all there having their breakfast. I had never seen such a big family in quite a small house and there was mattresses everywhere to home everybody.
But the smell of the fresh bread drove me crazy.
That smell that makes you want to eat bread straight away even if you are not hungry.
I thought if I get this country cottage, I am going to buy a bread maker and make delicious smelling bread like this.
That time did come, and I do have this bread maker now and I can happily say, as I type this it is making me more homemade bread!
If I am in a rush for some homemade bread, I will get the bread maker out, make the bread dough, then cook it in the air fryer. Or if I am not in a rush make it all with the air fryer.
I will show you how to do both today so that you can get lost in the comforting world of homemade bread.
Ingredients
Air Fryer Bread Recipe Ingredients:
450

 

g

 

Plain Flour

75

 

g

 

Butter

277

 

ml

 

Whole Milk

1

 

Tbsp

 

Olive Oil

1

 

Tbsp

 

Coconut Oil

5.5

 

g

 

Yeast

Salt & Pepper

Egg Wash

 

optional
Instructions
Prepare the bread. Rub your butter into your flour until the butter is well mixed in. Warm the milk and oils in a pan until they are luke warm. Add the yeast and the pan mixture into the bowl and mix with your hands until it makes a dough. Knead the bread for 5 minutes. Place the bread dough into the air fryer basket to prove. Set the time to 10 minutes and the temperature to 60c/140f

Easy Pull Apart Bread. For it to become pull apart bread rolls, make them into medium sized bread rolls but make sure that they are touching each other and don't have room to breathe. And place the bread rolls into an air fryer baking pan.

Brown Glaze. Brush the tops of the dinner rolls with egg wash and then airfry for 15 minutes at 180c/360f.

Regular Rolls. If you would like large regular rolls place 5 bread roll doughballs into the air fryer basket and air fry for the same time and temp. The doughwe made makes 9 and you will need to do it in two batches.
Feel free to join our new group