Air Fryer Quesadillas are perfect for a quick and easy busy weeknight meal. They have a super crispy texture and are extra gooey on the inside with delicious, melted cheese.
Quesadillas are a childhood favorite for so many of us. They are so versatile will fillings, such as meats, cheeses and veggies that everyone will enjoy them.
WHY YOU WILL LOVE THIS RECIPE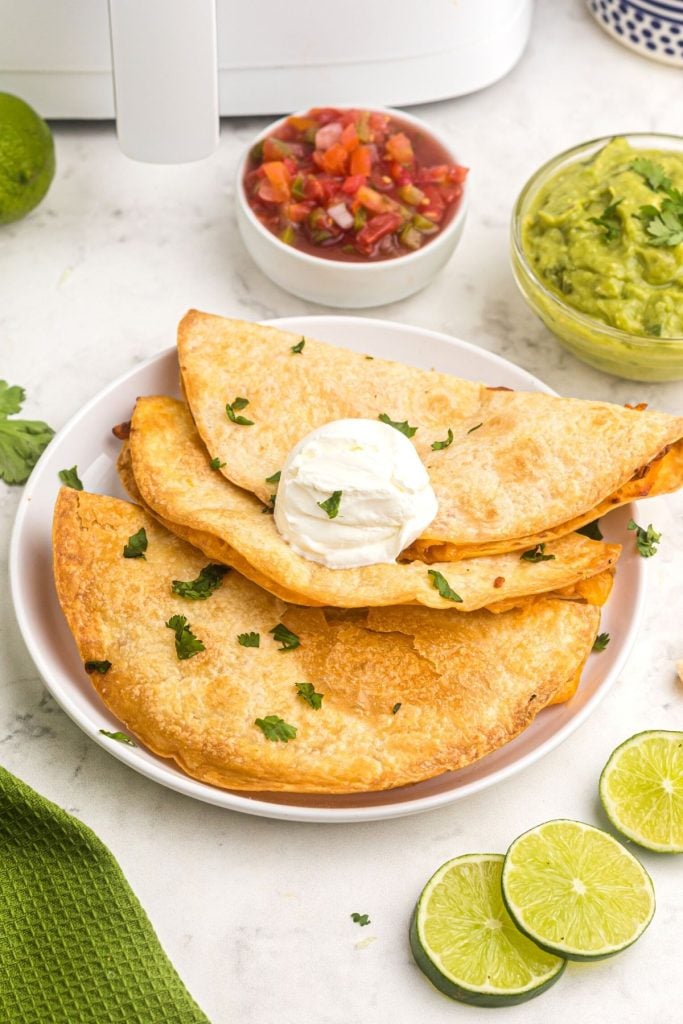 You will love this air fryer quesadilla recipe because it is a fast dinner, party appetizer or lunch that is ready in just minutes. Only a few simple ingredients can make dinner for the whole family.
These quesadillas also go well with so many other dishes, like Spanish, basmati, long grain or lime and cilantro rice. Or even with low carb taco soup or tortilla, albondigas or pork and poblano soup. Quesadillas will also go fantastic with shrimp ceviche, stuffed peppers or spicy bacon jalapeno poppers.
If you are looking for more easy air fryer recipes, we put together this list of all of our delicious Air Fryer Mexican Foods!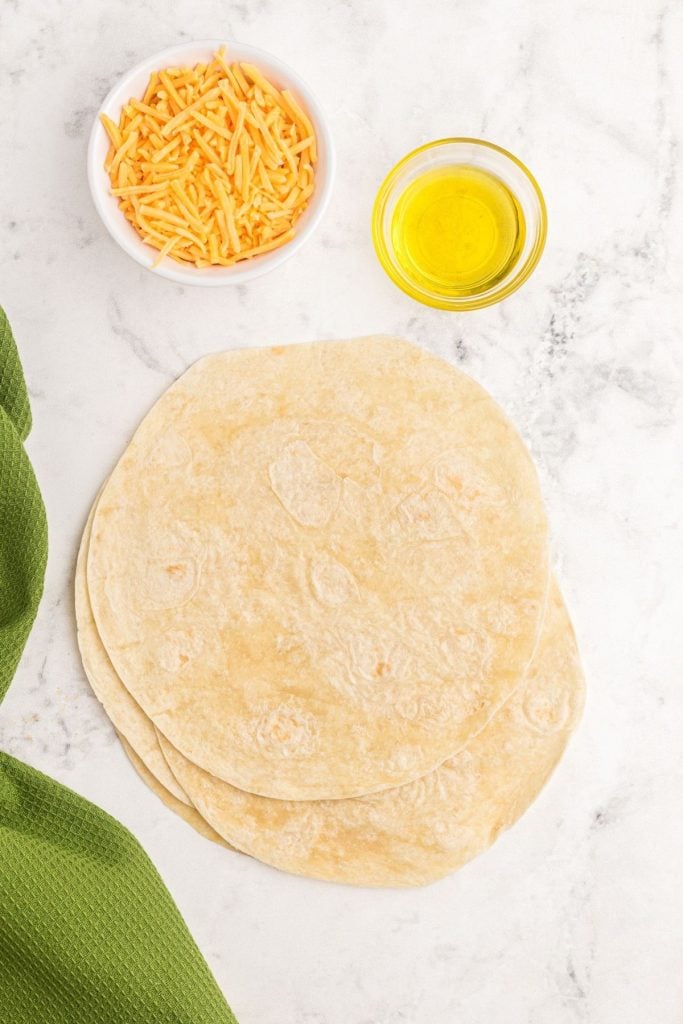 INGREDIENTS
2-4

 

flour tortillas

½

 

cup

 

shredded cheddar cheese

1

 

tablespoon

 

olive oil

 

or cooking spray
INSTRUCTIONS
Remove tortillas from packaging and spray one side of each tortilla with cooking spray.

Place each tortilla in air fryer basket, sprayed or brushed side down.

Spread a thin layer of shredded cheese, and optional toppings on top of tortilla.

Fold each tortilla in half and gently press together or seal them with a toothpick.

Air fry at 350 degrees F for 8-10 minutes, flipping the tortilla halfway through cooking time, until you have a crispy tortilla that is golden brown. After two minutes of air frying, open basket and if tortillas have opened, gently press together. The melted cheese will now keep them sealed.

Remove tortillas and serve immediately or let them rest on a wire rack to maintain crispiness.
NOTES
For extra crispy tortillas spray basket with additional cooking spray.
To cut evenly and quickly use a pizza cutter.
Choice of fillings: refried beans, black beans, onions, bacon, fresh herbs, bell peppers, tomatoes, pepperoni, mushrooms, kale, black olives, chopped garlic. For a breakfast quesadilla, add scrambled eggs.
Optional favorite toppings: adobo sauce, sour cream, salsa Verde, hot sauce, guacamole, pica de Gallo or Greek yogurt with a splash of lime juice.
Optional spices: cayenne pepper, garlic powder, curry powder, red pepper flakes or Italian seasoning.