Make an easy Air Fryer Salmon and Vegetables dinner in only 20 minutes from preparation to serving! This one pot air fryer meal is made with minimal, wholesome ingredients and can be customized with your favorite veggies.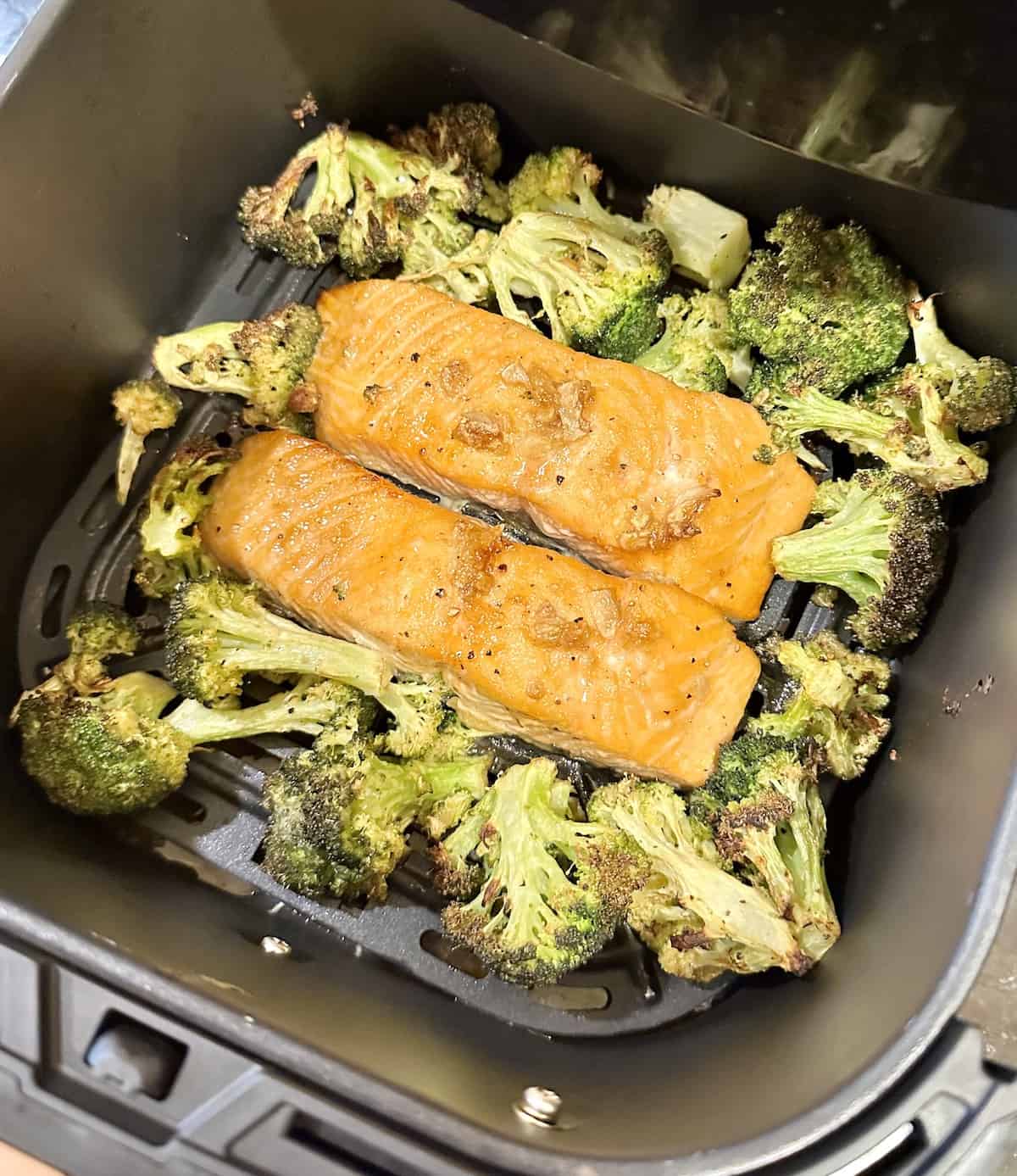 If you're looking for a full dinner made in your air fryer, salmon and vegetables is a great choice. It's easy and quick to make and low carb and healthy. Air fried salmon and vegetables can be made with broccoli as I do it with this recipe or any of your favorite vegetables (possibly with an adjusted cook time).
INGREDIENTS
2

 

6 oz

 

salmon fillets

½

 

cup

 

maple syrup

1 ½

 

tablespoon

 

soy sauce

2

 

garlic cloves

 

sliced

¼

 

teaspoon

 

salt

⅛

 

teaspoon

 

pepper

1

 

pound

 

broccoli

1

 

tablespoon

 

olive oil

1

 

tablespoon

 

lemon juice

1

 

teaspoon

 

garlic powder
INSTRUCTIONS
In a measuring glass, mix the maple syrup, soy sauce, sliced garlic cloves, salt and pepper. Marinate the salmon fillets in the sauce for 30 minutes.

Cut the broccoli into 1-2 inch florets. Toss with the olive oil, lemon juice, and garlic powder. Season with salt and pepper to taste.

Spray the air fryer basket or tray with cooking oil. Place the marinated salmon fillets in the center, not touching. Reserve the marinade for basting. Arrange the broccoli florets around the salmon. Set the air fryer to 400°F for 10 minutes. Toss the broccoli with tongs halfway through and baste the salmon with the remaining marinade.

Remove the broccoli from the air fryer when cook time is done. Check the internal temperature of the salmon. If it hasn't reached 145°F, continue to cook in 2 minute increments.

Serve sprinkled with fresh herbs if desired.
NOTES
Vegetables: add other vegetables that have a similar cooking time, such as asparagus, green beans and cauliflower. Broccolini, caulini, and bell peppers are good choices too.
Tip 1: It's fine to stack your vegetables, but the more you have the longer they will take to evenly cook. If using more than one pound of veggies, put them in at the beginning with the salmon.
Tip 2: Use tongs to toss the vegetables partly through cooking to help them cook evenly. The vegetables will pierce easily with a fork when done. Not all vegetables will take 10 minutes, some will take more and some less.
Tip 3: The cook time depends on salmon thickness, not ounces. Thicker fillets will require longer cooking time than thinner fillets. Your salmon is done when it reaches an internal temperature of 145 degrees Fahrenheit.
NUTRITION
Serving: 
14
oz
Calories: 
377
kcal
Carbohydrates: 
73
g
Protein: 
8
g
Fat: 
8
g
Saturated Fat: 
1
g
Polyunsaturated Fat: 
1
g
Monounsaturated Fat: 
5
g
Cholesterol: 
1
mg
Sodium: 
1129
mg
Potassium: 
971
mg
Fiber: 
6
g
Sugar: 
53
g
Vitamin A: 
1415
IU
Vitamin C: 
206
mg
Calcium: 
205
mg
Iron: 
2
mg