Did you know you can make S'mores Dip in the Air Fryer? This Air Fryer dessert is so easy and is perfect for a quick and delicious snack. Keep reading for this quick and easy Air Fryer dessert!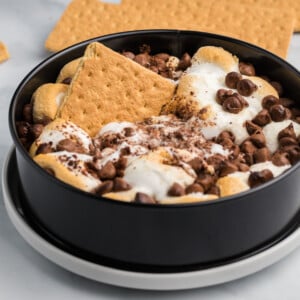 EQUIPMENT
Air Fryer
INGREDIENTS
1 cup chocolate chips
1 cup marshmallows
8 graham crackers
INSTRUCTIONS
Fill the bottom of a 7″ Springform pan or Air Fryer safe dish with ½ cup of chocolate chips.
Top the layer of chocolate chips with the marshmallows.
Cover the marshmallows with the remainder ½ cup of chocolate chips.
Place the pan into the Air Fryer basket and cook on 350 degrees Fahrenheit for 5-6 minutes. The chocolate should be soft and melting and the marshmallows should be a golden brown.
Carefully remove the dish from the Air Fryer and serve with graham crackers or your other favorite dipping items.
NOTES
If you're looking for something different to dip with this S'mores Dip, consider using fruits such as apple slices, bananas, strawberries, or grapes.
If you don't have a 7″ Springform pan or it doesn't fit into your Air Fryer, you can use any oven-safe dish that will fit into the basket of the Air Fryer.
NUTRITION
Calories: 119kcal
Carbohydrates: 24g
Protein: 2g
Fat: 2g
Saturated Fat: 1g
Sodium: 133mg
Potassium: 34mg
Fiber: 1g
Sugar: 11g
Calcium: 15mg
Iron: 1mg
*Nutritional information is a calculated guesstimate. Please note that this can change with different brands and modifications you may make to the recipe. For the most accurate information, use a nutritional calculator with the exact brands and measurements you're using with each recipe.
Feel free to join our new group