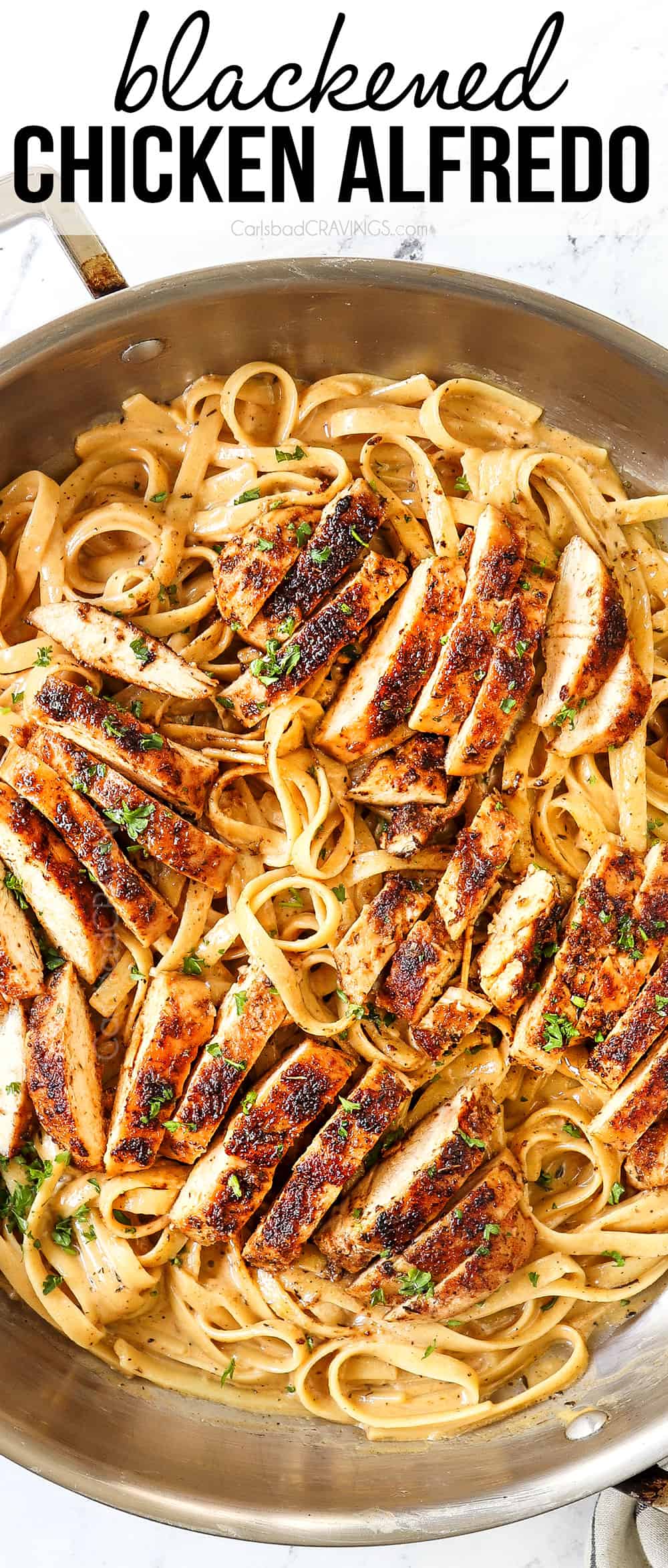 INGREDIENTS
8 ounces fettuccine
2 medium chicken breasts
4 tablespoon unsalted butter, divided
2 tablespoon olive oil
4 garlic cloves, minced
1 1/2 cups low sodium chicken broth
1 tablespoon cornstarch
1 cup heavy cream (or evaporated milk + 1 tsp cornstarch)
3/4 cup freshly grated Parmesan cheese
BLACKENING SEASONINGS
2 tsp EACH smoked paprika, garlic powder, onion powder
1 teaspoon salt
1 tsp EACH dried oregano, dried thyme
1/2 teaspoon pepper
1/4-1/2 teaspoon cayenne pepper
INSTRUCTIONS
Make cutlets: Slice the chicken through the equator to create 4 fillets. Cover the fillets with plastic wrap and pound to an even thickness using a meat mallet or side of a can, about ½-inch.

Season chicken: Mix all of the Blackening seasonings together in a small bowl. Reserve 1 tablespoon for the Alfredo sauce. Season both sides of the chicken with the remaining Blackening seasonings. Let the chicken rest while you prep the rest of the ingredients.

Cook pasta: Cook fettuccine in heavily salted water just until al dente. Reserve ½ cup pasta water before draining. Drain, rinse and toss pasta with a drizzle of olive oil; set aside.

Cook chicken: Meanwhile, melt 2 tablespoons butter in 2 tablespoons oil in a large, heavy bottom skillet over medium-high heat. Once hot, add chicken and cook for 4-5 minutes per side until golden and cooked through. Transfer chicken to a cutting board and loosely tent with foil; don't wipe out the skillet. Wait at least 5 minutes before slicing or chopping the chicken.

Make sauce: To the drippings left in the skillet (don't wipe out), melt 2 tablespoons butter over medium-low heat. Add garlic and remaining 1 tablespoon Blackening seasoning and cook for 3 minutes.

Add half of the chicken broth to the pan (eyeball it) and whisk the remaining chicken broth with cornstarch until smooth. Add to pan along with heavy cream. Bring the sauce to a simmer and simmer until thickened, stirring occasionally. Reduce heat to low and stir in Parmesan cheese until melted, about 2 minutes.

Combine: Add pasta and toss until well coated in the sauce, adding a little reserved pasta water if needed to reach desired consistency (for extra decadence, use heavy cream instead of pasta water). Add chicken to the skillet along with any accumulated juices on the cutting board. Taste and season with additional salt, pepper and/or cayenne or red pepper flakes to taste. Garnish with fresh parsley if desired.