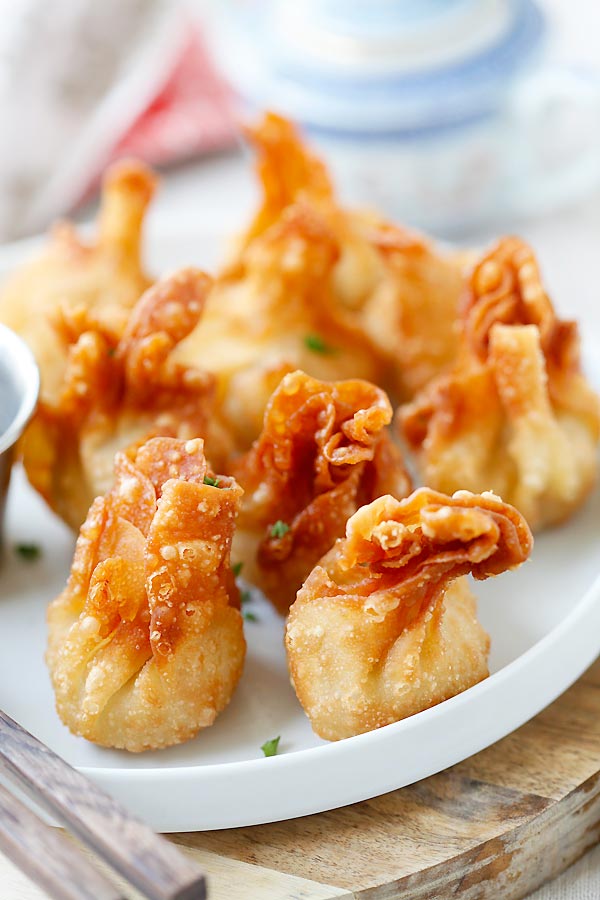 What Do You Eat Wontons With?
Wontons are commonly served with plum sauce, duck sauce, or a sweet and sour sauce.
For this recipe, I serve it with Thai sweet chili sauce, which is perfect for the chicken wontons. Once you eat one you just can't stop until you finish everything, so double up your portion and make a big batch because they will be gone in no time!
Ingredients:
1/2 pound ground chicken
1/4 cup finely chopped green onions
1/4 cup finely chopped water chestnuts
1 tablespoon soy sauce
1 tablespoon oyster sauce
1 teaspoon sesame oil
1 teaspoon grated ginger
1 garlic clove, minced
24 wonton wrappers
Cooking spray
Instructions:
In a large mixing bowl, combine the ground chicken, green onions, water chestnuts, soy sauce, oyster sauce, sesame oil, ginger, and garlic. Mix until well combined.
Lay out a wonton wrapper on a clean surface. Spoon 1 teaspoon of the chicken mixture onto the center of the wrapper.
Wet the edges of the wrapper with water and fold the wrapper in half to form a triangle. Press the edges together to seal the wonton.
Repeat with the remaining wonton wrappers and chicken mixture.
Preheat the air fryer to 375°F (190°C).
Spray the air fryer basket with cooking spray.
Place the wontons in the air fryer basket in a single layer, making sure they are not touching each other.
Spray the wontons with cooking spray.
Air fry the wontons for 5-6 minutes, or until they are golden brown and crispy.
Serve the air fryer chicken wontons hot with your favorite dipping sauce.
Enjoy your delicious and healthy air fryer chicken wontons!