This Pozole Rojo is restaurant delicious (or better!), accidentally healthy, feeds a crowd (or great to freeze) and is layered with complex flavor.  It's made with juicy shredded, pork, earthy dried chiles, hominy (like giant corn kernels), fire roasted tomatoes, tangy green chiles, aromatic onions and garlic all topped with contrasting, cool, crunchy toppings of shredded cabbage, radishes, cilantro, lime, and avocados.  This pozole recipe is warm and comforting, hearty, savory and practically hypnotic. It also makes fabulous leftovers (tastes even better the next day!) for a sensational make ahead meal of lunch through out the week.
Mexican Soup recipes are some of our favorite fall/winter dinners around here.   If you're looking for more easy, comforting, one pot Mexican soups, you'll love Chicken Tortilla Soup, Crockpot Verde Chicken Tortilla Soup, Cheesy Taco Soup, Chicken Enchilada Soup, Chicken Fajita Soup, Albondigas Soup, and Caldo de Pollo.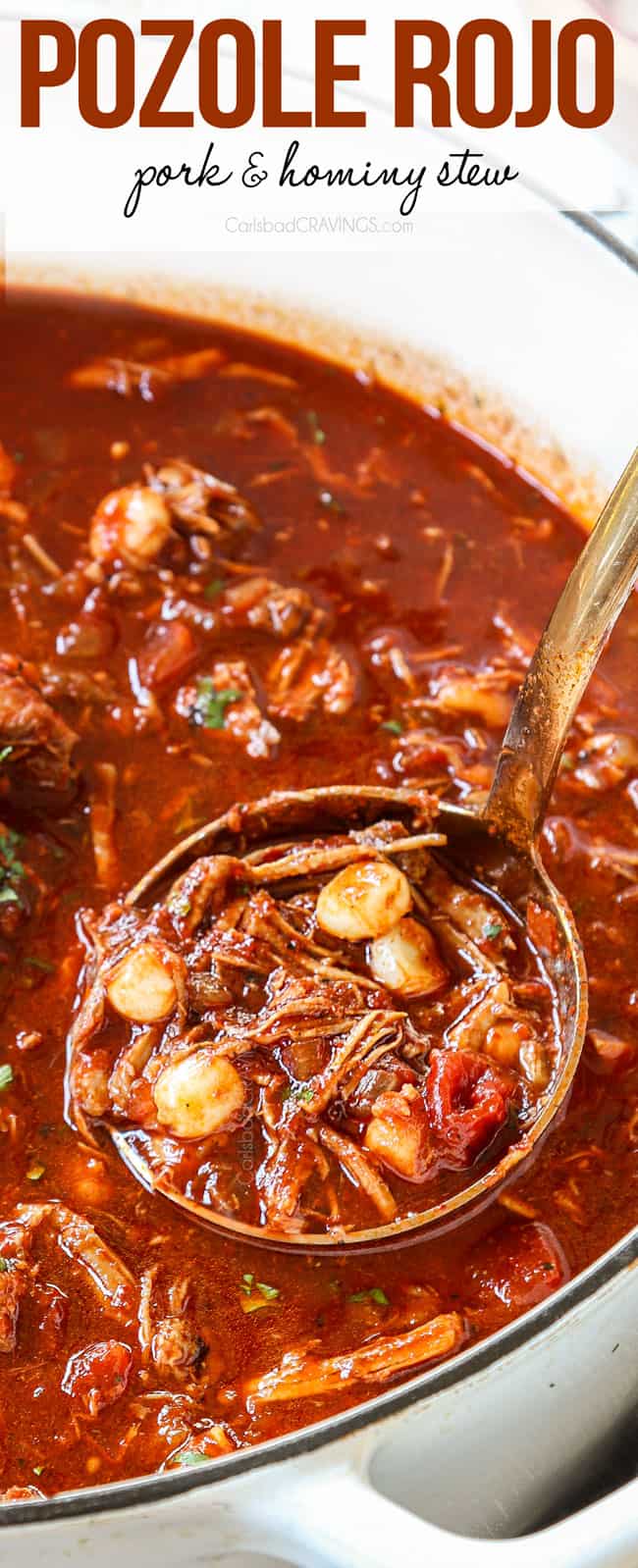 WHAT IS POZOLE?
Pozole is one of Mexico's most iconic and beloved dishes, served as an everyday meal, for large family gatherings or to celebrate festive occasions.  It is often served on New Year's Eve, Mexican Independence Day, birthdays, Christmas and other holidays.
Pozole is a cross between a brothy soup and hearty stew that is rich, satisfying, earthy and layered with flavor.  Pozole is made throughout Mexico in several distinct styles: pozole blanco, pozole rojo and pozole verde. Pozole blanco boasts a clear broth, made with hominy but without chiles.   Pozole verde boasts a green broth made with hominy and salsa verde from tomatillos, cilantro, and jalapenos. Pozole rojo boasts a dark crimson broth made with hominy and a red chile sauce made from ancho, guajillo and sometimes a couple arbol chiles for heat.
Pozole blanco and pozole rojo are typically made with pork and pozole verde is typically made with chicken, although this can vary from region to region, household to household, or even day to day.  Vegetarian pozole does exist but is not as common.
While each version of pozole soup includes several variations, they all have one thing in common – hominy.  If you aren't familiar with hominy, it is dried field corn kernels treated with an alkali solution that removes the hull and germ of the corn and boiled until tender but still chewy.  The grains puff up to about twice their normal size, giving them the appearance of giant corn kernels.  This process also creates a more complex, earthy, sweet corn flavor.
In addition to hominy, pozole is also known for its toppings, especially because the soup itself is relatively simple.  The toppings provide fresh, contrasting flavor and crunchy texture.  Pozole toppings are a matter of availability and taste, but typically include radishes, green cabbage, onions, avocados, cilantro and lime juice.
ARE POZOLE AND POSOLE THE SAME?
Yes!  You will see pozole spelled both pozole and posole, largely because the "s" and the "z" are pronounced the same in Mexican Spanish.  The original, preferred spelling in Mexico, however, is pozole with z.  Posole with an s is more often seen in American Southwest spellings.
WHAT DOES POZOLE MEAN?
Pozole is pronounced [po'sole] in Spanish.  It comes from the Nahuatl word, pozolli, which some claim means 'hominy' and others claim it means 'frothy.'  "Frothy" would refer to the foam rising to the surface of the hominy's boiling water-lye preparation.
Nahuatl is an Uto-Aztecan indigenous language spoken in various forms from pre-Hispanic times until the present day and is the second most commonly spoken language in Mexico after Spanish.
INGREDIENTS
PORK
4-5

 

pounds

 

pork butt, bone-in if available

 

trimmed of excess fat and cut into 4-inch pieces

1

 

tablespoon

 

kosher salt

1 1/2

 

tsp EACH

 

ground cumin, garlic powder, onion powder, smoked paprika

1/2

 

teaspoon

 

pepper
STEW
2

 

tablespoons

 

vegetable oil

1

 

large onion

 

chopped

4

 

garlic cloves

 

minced

1

 

tablespoon

 

ground cumin

7

 

cups

 

low sodium chicken broth

1 

14 oz. can

 

fire roasted diced tomatoes with juices

1 

4 oz. can

 

mild chopped green chilies

1

 

tablespoon

 

dried oregano

 

preferably Mexican

1

 

teaspoon

 

ground coriander

3

 

bay leaves

3 

15 oz. cans

 

white or yellow hominy

 

drained and rinsed

2 1/2

 

cups

 

Yukon gold potatoes

 

peeled, chopped 1/2-inch (optional – see notes)*

salt and cayenne pepper to taste
CHILI SAUCE
4

 

ounces

 

dried guajillo peppers or guajillo + ancho peppers

1-3

 

arbol chile peppers

 

optional if you like heat

2

 

teaspoons

 

unsweetened cocoa powder

2

 

teaspoons

 

sugar

1/4

 

teaspoon

 

cinnamon
GARNISHES (PICK YOUR FAVS!)
warmed corn tortillas, tostadas or tortilla chips

thinly sliced cabbage

thinly sliced radishes

thinly sliced red onion

chopped cilantro

chopped avocados

fresh lime juice

Cotija cheese
INSTRUCTIONS
STEW
Preheat oven to 300 degrees F.

Whisk the pork seasonings together. While the pork is still on the cutting board, pat the pieces dry then rub pork all over with the seasonings, set aside. Reserve the bone.

Heat the vegetable oil in a large, (7-9 quart) Dutch oven over medium-high heat. Add the pork and brown on all side; remove to a plate. Add the onions and cook until softened, scraping up the brown bits, about 5 minutes. Add the garlic and ground cumin and sauté 30 seconds.

Add the pork back to the pot followed by the pork bone, chicken broth, diced tomatoes, green chilies, oregano, coriander and bay leaves. Cover to bring to a boil then transfer to the oven. Bake at 300 degrees F until the pork is fall apart tender, about 90 minutes.
CHILI SAUCE
While the pork is cooking, make the chili sauce. Cut the tops off of all the chilies with kitchen shears. Cut chilies along one edge to open like a book; scrape out all of the seeds. Reserve some of the seeds to finish the soup if you want more heat.

Heat a large skillet over medium-high heat. Add chiles and briefly toast until fragrant, about 1 minute on each side. Cover the chilies with enough water so that they aren't touching the bottom of the skillet (careful it will steam a lot). Simmer for 3-5 minutes until chilies are softened.

Remove chilies to blender along 1 ½ cups of the skillet liquid, cocoa powder, sugar and cinnamon. Process until smooth, leaving a corner of the blender open so steam can escape; set aside. If you don't have a high powered blender, then strain the chili sauce through a fine mesh strainer into a bowl, using rubber spatula to push the mixture through.
FINISH SOUP
Remove the pot from the oven and transfer to the stove. Discard bone. Using two forks, shred the pork (I find it easiest to transfer pork to a cutting board using a strainer, shred, then add back to pot). Add the hominy and chili sauce to the pot. Bring to a boil then reduce to a gentle simmer for 25 minutes, stirring occasionally. Season with 1½ -2 teaspoons salt and either some reserved chili seeds or cayenne pepper to taste for a spicier soup.

Garnish individual bowls with garnishes of choice.
NOTES
TIPS AND TRICKS
Step by step instructions:  see post for detailed step by step photos and instructions.
*Potatoes: are not authentic to pozole but I think they add SO MUCH fabulous texture and flavor (every stew needs potatoes!).  If you add the potatoes, reduce the hominy to two 15 oz. cans.
Dried Chiles:  you can use all guajillo peppers or a combination of guajillo peppers and ancho peppers.  Both of these peppers are not spicy so the resulting chili sauce will be mild with a slight sweetness.  If you would like a spicy soup, then add 1-3 arbol chili peppers OR you can season the soup with cayenne pepper to taste at the end of cooking.
Pork butt/shoulder: both pork butt and pork shoulder come from the front of the pig (not the rear). If you have a choice between pork butt and pork shoulder, use pork butt, often called Boston butt because it has more fat marbling throughout the meat so it emerges more fall-apart-tender.
Hominy: is what this recipe is named after and should not be skipped!  Use canned hominy located near the corn at your grocery store.
Don't burn pork or chiles: take care you don't sear the pork at too high of temperature and adjust the heat if needed. We want golden bits left behind in the pan and not black bits otherwise the pozole will taste burnt.  Same goes for the chiles, toast them for just a minute or so – don't let them burn!
Bake until pork is tender: the tender, juicy shredded pork is the star of this pozole recipe, so don't shortcut it. If your pork isn't fall apart tender, cook on
Customize consistency:  pozole is a stew and as such, it is supposed to be on the chunky side. If you prefer it more brothy, simply add additional beef broth.
Don't skimp the garnishes! The garnishes are especially important in Mexican pozole because the soup itself is rich and earthy. It needs the brightness and contrasting crunch the toppings provide.
Storage: store pozole in an airtight container in the refrigerator for up to 5 days or freeze for up to 3 months.
Make Ahead:  You can make the entire pozole ahead of time because it reheats beautifully.   Alternatively, you can prep the recipe through step 4, except go one step further and shred the pork.  Allow to cool to room temperature then refrigerate 1-2 days.  When ready to finish the soup, skim off the hardened fat, add the hominy and chili sauce and simmer for 25 minutes.