Golden and crispy, these air fryer salmon patties cut down on the oil and deliver big on flavor! Made with canned salmon, they are a great way to cook from your pantry.
The air fryer is such a great way to get crispy food while cutting back on oil. From air fryer chicken wings to french fries and these salmon patties, there are so many delicious possibilities!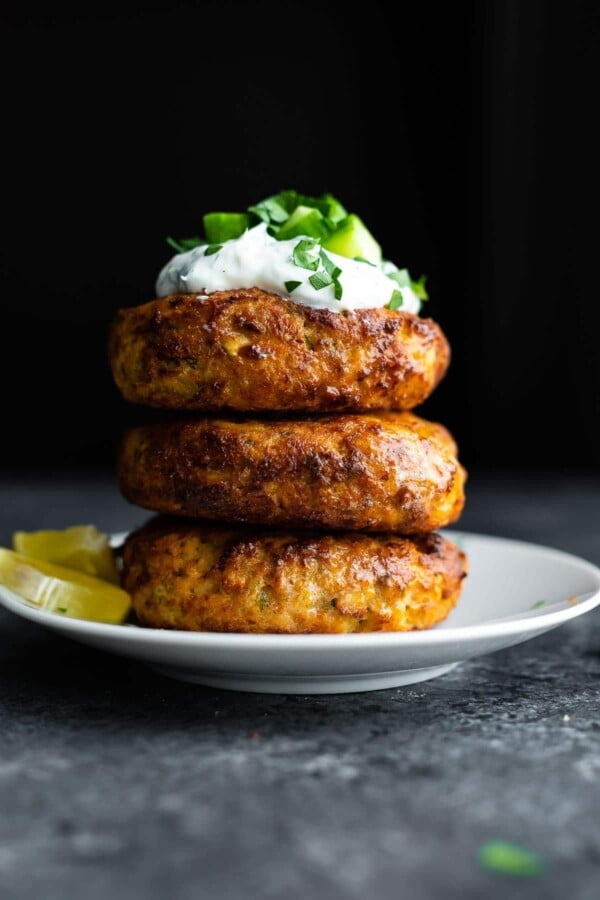 Ingredients
12

 

oz

 

canned salmon

 

(or 3 125 g cans); drained, mashed, skin and bones removed if desired

2

 

eggs

¼

 

cup

 

mayo

¼

 

teaspoon

 

salt

½

 

cup

 

breadcrumbs

lemon

 

zested

½

 

teaspoon

 

dried dill

 

or 2 teaspoons fresh
Serving Suggestions
fresh dill

yogurt or tzatziki

lemon wedges

fresh cucumber
Instructions
Mix ingredients together- in a large bowl, use a spatula to mix together the salmon (drained, mashed, and skin/bones removed if you'd like), eggs, mayo, salt, breadcrumbs, lemon zest and dill.

Measure out patties– using a ½ cup measuring cup, firmly pack the mixture into the cup, then tap it out into the palm of your hand.

Form patties- pat gently to form a patty that is no more than 1 inch thick and is of equal thickness across the patty.

Cook the patties- heat air fryer to 390°F. Spray the basket with oil, then add patties into the basket. Spray the tops of the salmon patties.

Cook for a total of 8 minutes. Spray a second time 1-2 minutes before the patties are cooked through.

See note 1 for differences between oven and basket air fryers.

Serve- top the patties with the serving suggestions, and enjoy!
Tips:
1- Depending on the size of your air fryer you may be able to cook 2-4 patties at a time. If you have a basket air fryer, no need to flip. If you have an oven air fryer, rotate the trays half way through, and keep a careful eye on them as they may cook through with a slightly different cook time.
Storage
Cool completely, then store in an air tight meal prep container in the fridge for up to 4 days.
Reheating
Heat air fryer to 350°F, then put salmon patties into the basket. Spray with oil. You may want to do a second spray just before serving.
Heat for 5 or so minutes, until warmed through. Enjoy!
Preparing the patties ahead
fridge– form the patties, and arrange in a large meal prep container. If you stack them, place pieces of wax paper between them. Store for up to 48 hours, then cook as directed in the recipe card.
freezer– form the patties, and arrange on a parchment- lined baking sheet. Freeze for 2 hours, until frozen solid, then transfer to a meal prep container or freezer bag, placing wax paper between the patties. Squeeze out as much air as possible, and freeze for up to 3 months. Thaw, then cook as directed above in the recipe card.