This stuffed cabbage rolls recipe is cabbage leaves filled with beef and rice, coated in a homemade tomato sauce and baked to perfection. A comfort food classic that's hearty, delicious and simple to make.
I've been eating stuffed cabbage since I was a child, and I've been working on this recipe for a long time to create the ultimate rendition of cabbage rolls. Serve your stuffed cabbage rolls with a side of mashed potatoes and broccoli, and watch the rave reviews pour in!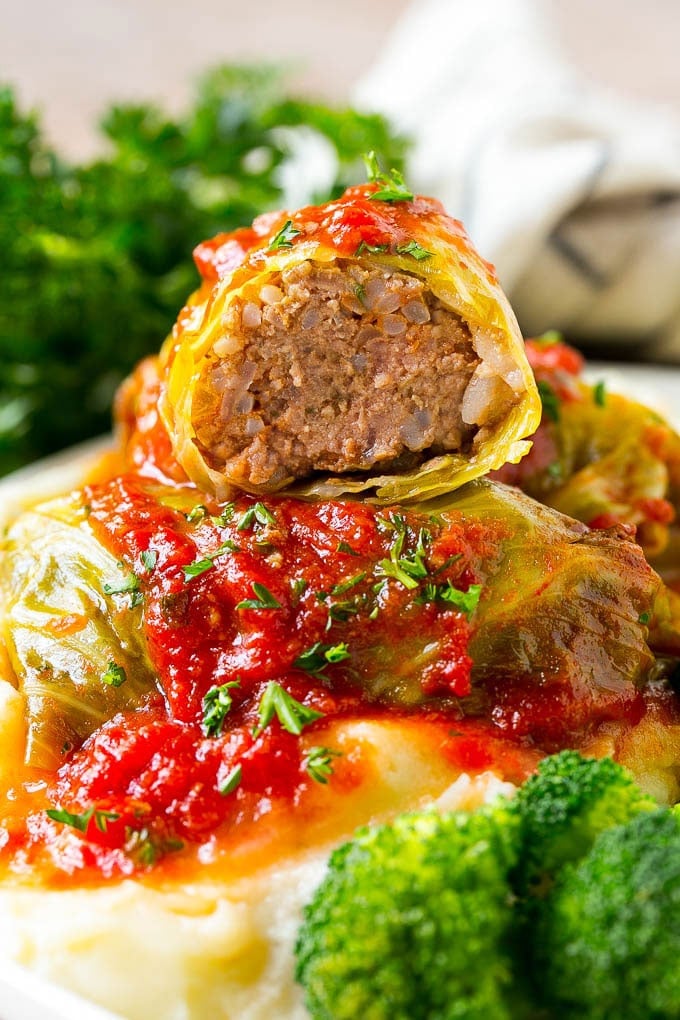 I grew up eating cabbage rolls, and I've had enough in my time to know the difference between a good cabbage roll and a less than stellar cabbage roll. My version of cabbage rolls features a flavorful beef and rice filling, and the rolls are cooked in a simple homemade tomato sauce for fabulous results.
HOW DO YOU MAKE STUFFED CABBAGE ROLLS?
The first step is to make your filling. The filling is a combination of ground beef, cooked rice, onions, garlic, egg and seasonings. Everything gets mixed together to form the base of your dish.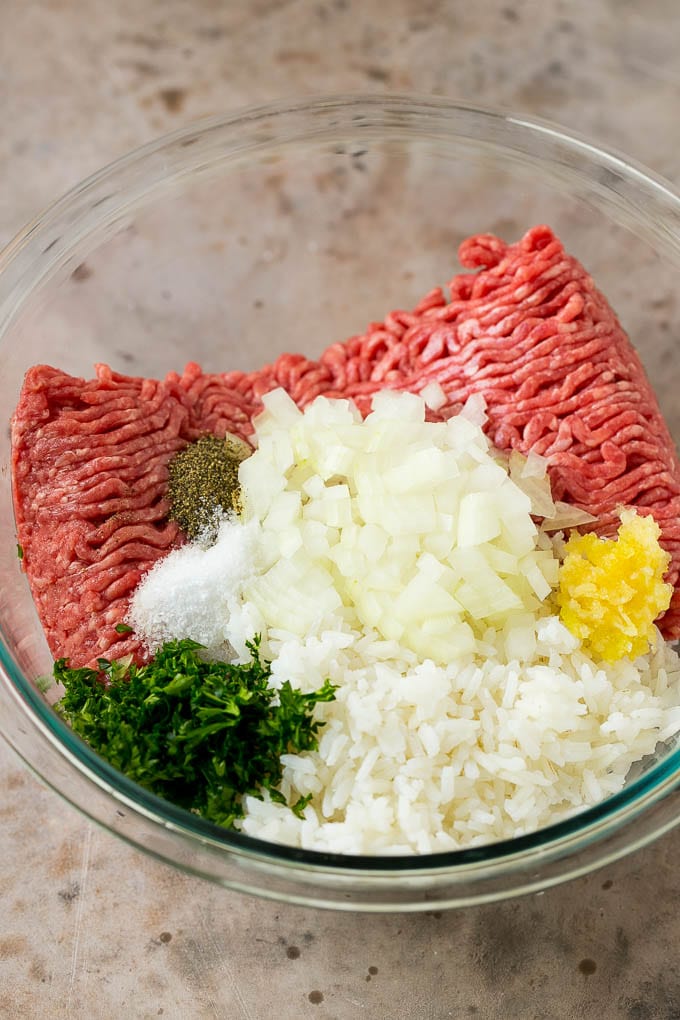 The meat mixture gets wrapped up inside cooked cabbage leaves, then the cabbage rolls are layered in a baking dish on top of homemade tomato sauce and baked. This dish takes over an hour to bake because to want to make sure your meat is cooked through, so plan accordingly!
HOW DO YOU GET CABBAGE LEAVES OFF THE HEAD?
If you try to remove raw cabbage leaves from the cabbage head, you'll want to slice off the root end and very carefully peel the leaves off to avoid tearing. Sometimes tearing is inevitable no matter how careful you are, so I've found the best method is to cook the head of cabbage first. Cut off the root end, then submerge your cabbage head in a pot of boiling water until the leaves are tender and can easily be peeled away.
INGREDIENTS
For the tomato sauce
2

 

tablespoons

 

butter

1/2

 

cup

 

onion

 

finely chopped

1

 

teaspoon

 

garlic

 

minced

28

 

ounce can

 

crushed tomatoes

 

do not drain

15

 

ounce can

 

tomato sauce

salt and pepper to taste

2

 

tablespoons

 

brown sugar

1

 

tablespoon

 

red wine vinegar
For the cabbage rolls
1

 

pound

 

ground beef

 

I use 90% lean

1

 

cup

 

cooked rice

1/2

 

cup

 

onion

 

finely chopped

1

 

teaspoon

 

garlic

 

minced
1

 

teaspoon

 

salt

1/2

 

teaspoon

 

pepper

1/4

 

cup

 

fresh parsley leaves

 

chopped, divided use

1

 

egg

1

 

head

 

cabbage

cooking spray
INSTRUCTIONS
For the tomato sauce: Melt the butter in a large pot over medium heat. Add the onion and cook for 4-5 minutes or until translucent.

Add the garlic and cook for 30 seconds. Add the crushed tomatoes, tomato sauce, salt and pepper to the pot.

Stir in the brown sugar and red wine vinegar. Bring to a simmer.
Cook for 10-15 minutes, stirring occasionally.

While the sauce is simmering, assemble the cabbage rolls. Bring a large pot of  water to a boil.

Immerse the cabbage head in the boiling water. Cook for 3-5 minutes or until cabbage leaves are pliable. Peel 12 large leaves off the cabbage.

Place the ground beef, rice, onion, garlic, salt, pepper, 2 tablespoons of parsley and egg in a bowl. Add 1/2 cup of the tomato sauce to the bowl. Stir to combine.

Lay each cabbage leaf on a flat surface. Use a small knife to cut a V-shaped notch to remove the thick part of the cabbage rib.

Shape 1/3 of a cup of the meat mixture into a log shape and place in the center of a cabbage leaf. Roll the cabbage leaf around the meat mixture. Repeat with remaining meat and cabbage leaves.

Preheat the oven to 350 degrees F.

Coat a 9″x13″ pan with cooking spray. Place 1/2 of the tomato sauce in the bottom of the baking dish. Place the cabbage rolls, seam side down, in the dish. Top with remaining sauce.

Cover with foil. Bake for 60-90 minutes or until cabbage is tender and meat is cooked through.

Sprinkle with remaining 2 tablespoons of parsley, then serve.
NUTRITION
Calories: 
336
kcal
 | 
Carbohydrates: 
36
g
 | 
Protein: 
22
g
 | 
Fat: 
12
g
 | 
Saturated Fat: 
5
g
 | 
Cholesterol: 
86
mg
 | 
Sodium: 
657
mg
 | 
Potassium: 
1180
mg
 | 
Fiber: 
7
g
 | 
Sugar: 
18
g
 | 
Vitamin A: 
910
IU
 | 
Vitamin C: 
75
mg
 | 
Calcium: 
140
mg
 | 
Iron: 
5
m