Are you craving a personal pizza that's not greasy but still has tons of flavor? Then, look no further than this Air Fryer recipe. This easy Air Fryer Pizza is super easy to make, takes way less time than ordering pizza, and is something the whole family will enjoy.
Everyone loves having their own pizza, which is why this recipe is a big hit with kids. Plus, the best part about this simple recipe is that you don't need a fancy pizza oven to make it. All you need are a few simple ingredients and an Air Fryer, and you can whip up these personal pan pizzas in under 30 minutes.
It's easy to make, just grab your favorite pizza recipes and your entire family is going to be amazed at this easy air fryer dish.
For your next pizza night you have to try this easy air fryer pizza recipe! Ready to serve in 10 minutes, these personal pizzas are super delicious and easy to customize with our favorite toppings.
WHY YOU'LL LOVE THIS PIZZA
You'll love this delicious pizza recipe because it tastes even better than restaurant-style pizza and contains half the calories. Plus, you can personalize these pizzas any way you want.
Just grab your favorite ingredients and throw them on top! In addition, even the most beginner cooks can make this recipe because there aren't a ton of ingredients!
Finally, we guarantee you'll never want frozen pizza or restaurant pizza again after this recipe because it's so good and easy way to make your favorite meal.
So, grab your Air Fryer, and get ready to make this delicious homemade pizza for your next pizza night.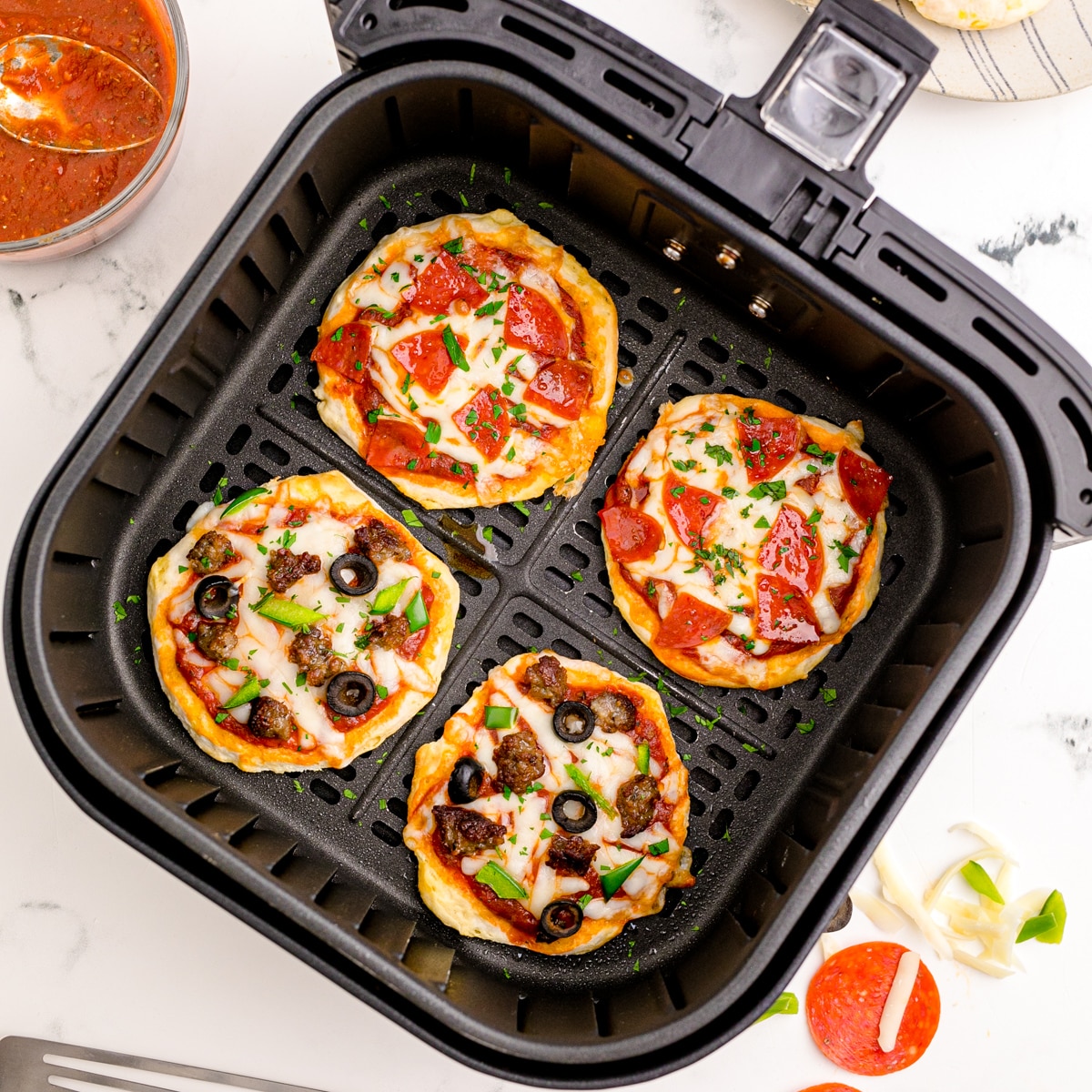 Ingredients
6- inch pizza crust
¼ cup pizza sauce
½ cup mozzarella cheese
Desired toppings
Instructions
Preheat the air fryer to 375 degrees Fahrenheit.
Meanwhile, prepare your pizza by placing pizza crust on an air fryer parchment paper liner. Add pizza sauce, cheese, and other desired toppings to the pizza crust.
Place the pizza in the air fryer basket and cook for 7-8 minutes, until the cheese has melted and browned.
Notes
You can use store-bought prepared crust or homemade dough for this recipe. If your homemade dough requires you to pre-bake the crust, place the prepared dough in the air fryer and cook at 400 degrees Fahrenheit for 3 minutes. Then remove the crust, place the sauce, cheese, and toppings and cook on 375 degrees for an additional 4-5 minutes until the cheese is melted and bubbly.
I place an air fryer rack over my pizza to stop the toppings from flying around. If you don't have a rack, proceed to cook the pizza but check halfway to see if the toppings have moved. If they have, simply place them back on the pizza and continue to cook.
Nutritional values are calculated with pizza sauce and mozzarella, more toppings will be additions.