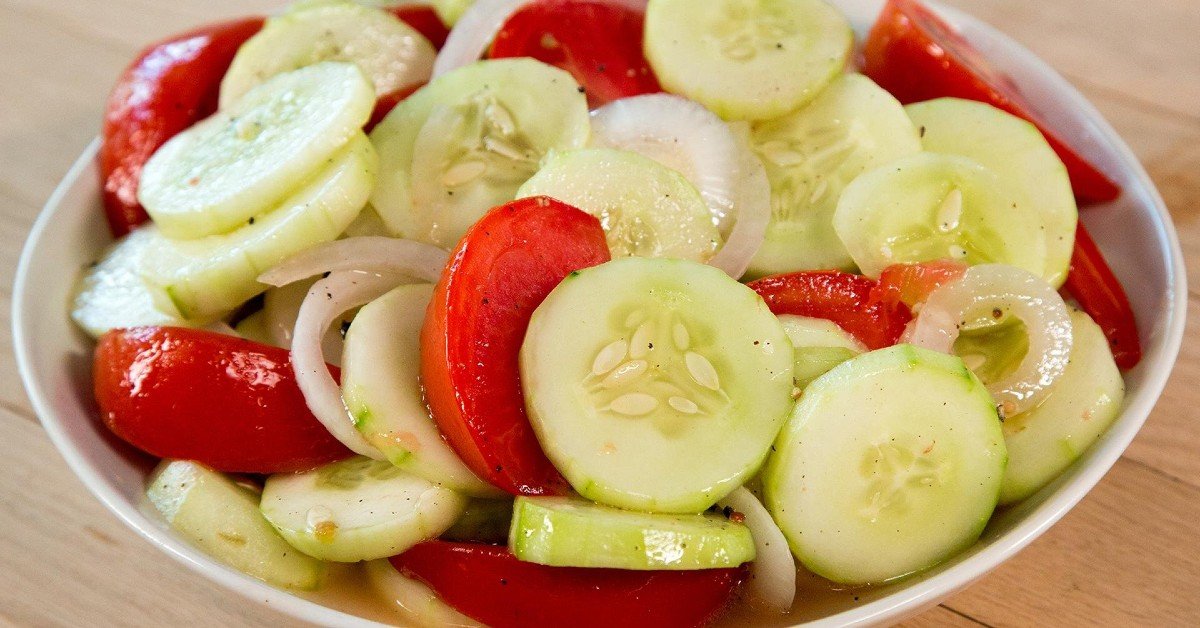 Cucumber, Onion, and Tomato Salad: A Refreshing Summer Delight
Introduction
Cucumber, onion, and tomato salad is a classic and refreshing dish that's perfect for warm summer days or any time you crave a light and healthy side dish. This salad combines the crispness of cucumbers, the mild sweetness of onions, and the juiciness of tomatoes, all brought together with a tangy dressing. In this recipe, we'll guide you through making Cucumber, Onion, and Tomato Salad that's simple, flavorful, and a great addition to any meal.
Ingredients
Before we dive into the recipe, let's gather the essential ingredients you'll need for Cucumber, Onion, and Tomato Salad:
For the Salad:
2 large cucumbers, thinly sliced
2 medium tomatoes, cut into wedges or chunks
1 medium red onion, thinly sliced
1/4 cup fresh parsley, chopped (optional, for garnish)
Salt and black pepper to taste
For the Dressing:
1/4 cup extra-virgin olive oil
2 tablespoons red wine vinegar
1 clove garlic, minced
1 teaspoon honey or sugar (adjust to taste)
1/2 teaspoon dried oregano
Salt and black pepper to taste
Instructions
1. Prepare the Vegetables
Wash the cucumbers, tomatoes, and red onion thoroughly.
Slice the cucumbers into thin rounds. If you prefer a milder flavor, you can peel them and remove the seeds.
Cut the tomatoes into wedges or chunks, depending on your preference.
Thinly slice the red onion. If the onion is too sharp for your taste, you can soak the slices in cold water for about 10 minutes, then drain and pat them dry.
2. Assemble the Salad
In a large salad bowl, combine the sliced cucumbers, tomato wedges, and red onion slices.
Season the vegetables with salt and black pepper to taste. Toss gently to distribute the seasoning evenly.
3. Prepare the Dressing
In a small bowl, whisk together the extra-virgin olive oil, red wine vinegar, minced garlic, honey or sugar, dried oregano, salt, and black pepper. Whisk until the dressing is well combined.
Taste the dressing and adjust the sweetness and acidity to your liking by adding more honey or vinegar as needed.
4. Dress the Salad
Drizzle the prepared dressing over the cucumber, onion, and tomato mixture.
Toss the salad gently to coat the vegetables with the dressing. Be careful not to overmix to keep the salad crisp and fresh.
5. Garnish and Chill
If desired, garnish the salad with chopped fresh parsley for a burst of color and flavor.
Cover the salad bowl with plastic wrap or a lid and refrigerate for at least 30 minutes before serving. Chilling allows the flavors to meld together and enhances the overall taste.
6. Serve and Enjoy
Cucumber, Onion, and Tomato Salad is best served chilled. It makes a fantastic side dish for grilled meats, sandwiches, or as a light and refreshing standalone salad.
Enjoy your homemade salad as a healthy and satisfying addition to your meal.
Conclusion
Cucumber, Onion, and Tomato Salad is a timeless and palate-pleasing dish that celebrates the flavors of fresh, seasonal vegetables. Whether you're hosting a summer barbecue or simply looking for a nutritious side dish, this salad is a go-to option that's quick to prepare and delightful to enjoy.
So, gather your ingredients, slice those veggies, and get ready to savor the crispness and flavors of this classic salad. Happy eating!