Banana Pudding Pies are awesome in the air fryer. Made with instant banana pudding, pie crust, and sliced bananas. Topped with whipped cream and sliced bananas. Air Fried Banana Pudding Pie is one of my favorite air fryer desserts to make in the summer!
INGREDIENTS:
instant banana pudding
banana slices
refrigerated pie crust (Pillsbury is my favorite to use!)
whipped cream (optional)
eggs, whisked
INSTRUCTIONS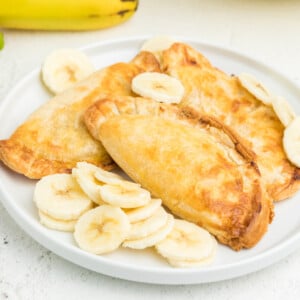 Make the instant banana pudding and allow it to set for approximately 5 minutes.
Unroll the pie crust on a flat surface and cut the dough for the mini pies.
Add 2 teaspoons of banana pudding and 3-4 banana slices to the pie crust.
Fold over the pie crusts and crimp the edges with a fork or with a hand pie gadget. Do this for each pie.
Spray the basket of the air fryer with nonstick spray, olive oil spray, or use a piece of parchment paper to prevent sticking.
Add the banana pudding pies in a single layer in the air fryer basket.
Brush the tops of the pies with the egg and air fry for 3 minutes at 380 degrees Fahrenheit.
Carefully flip the banana pies and brush with egg, then air fry for an additional 3 minutes.
Remove from the air fryer basket and serve with whipped cream and additional banana slices.
NOTES
This recipe was made with a 5.8 qt basket style Cosori Air Fryer. All air fryers cook differently. If you're using a different brand of air fryer, you may need to adjust the cooking time according to how your air fryer cooks.
Store remaining fried banana pies in an airtight container in the refrigerator. To reheat the pies, place them in the air fryer and heat them at 350 degrees Fahrenheit for 2 minutes, or until heated through.
You can also choose to eat these refrigerated! They are delicious both hot and cold!
Feel free to join our new group