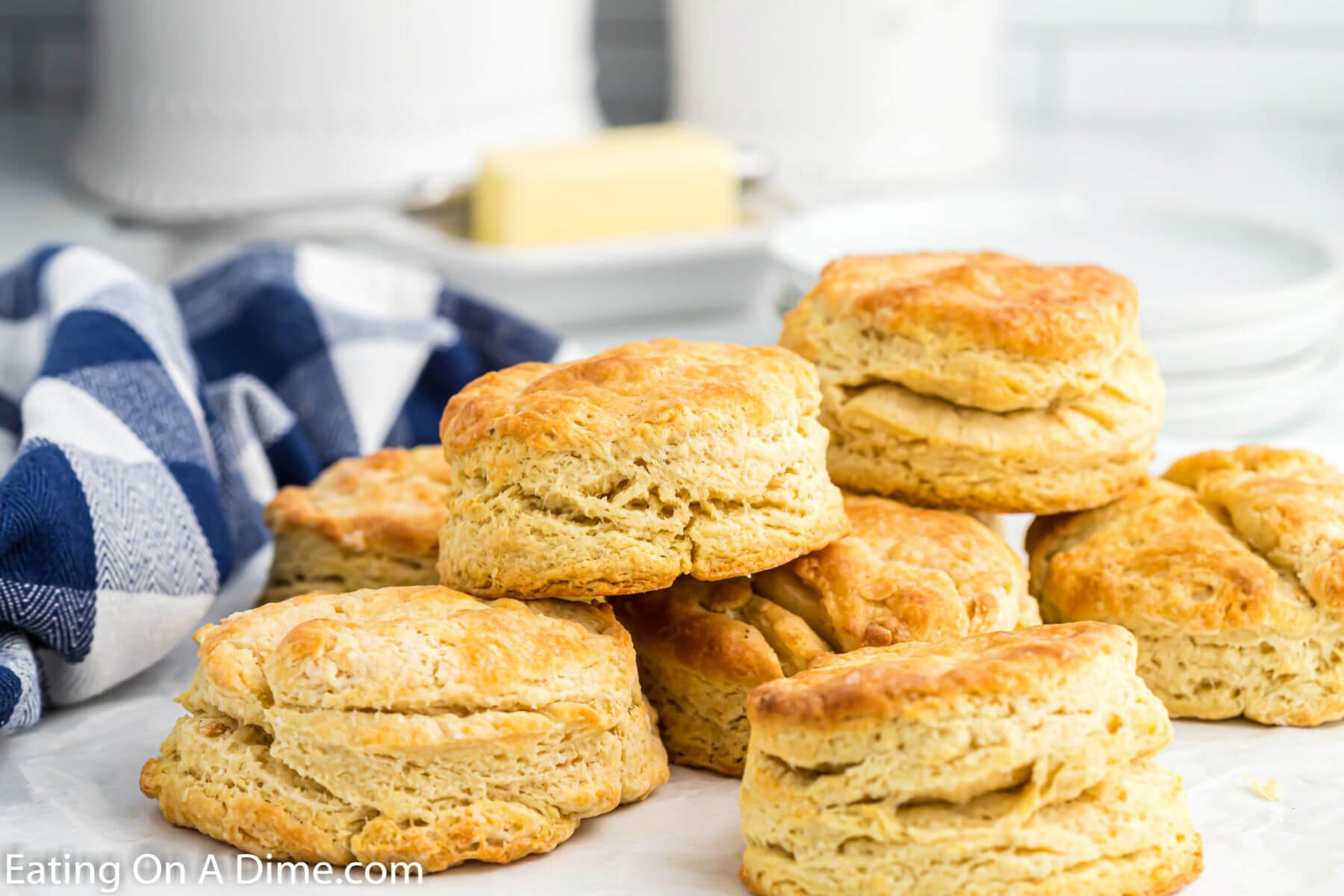 Homemade KFC-Style Biscuits: Fluffy, Buttery, and Irresistible
Introduction
Kentucky Fried Chicken, or KFC, is renowned not only for its crispy chicken but also for its iconic biscuits. These flaky, buttery delights have captured the hearts and taste buds of people around the world. In this article, we'll explore how to make homemade KFC-style biscuits that are just as fluffy, buttery, and irresistible as the originals.
The Secret to Perfect Biscuits
Creating the perfect KFC-style biscuit requires attention to detail and the right ingredients. With a few simple steps, you can recreate the magic of these biscuits in your own kitchen.
Ingredients
Before we dive into the recipe, let's gather the essential ingredients you'll need for these delectable biscuits:
2 cups all-purpose flour
2 1/2 teaspoons baking powder
1/2 teaspoon baking soda
1 tablespoon granulated sugar
1/2 teaspoon salt
1/2 cup (1 stick) unsalted butter, cold and cubed
3/4 cup buttermilk (or 3/4 cup milk with 1 tablespoon white vinegar or lemon juice)
2 tablespoons unsalted butter, melted (for brushing the biscuits)
Instructions
1. Preheat Your Oven
Preheat your oven to 450°F (230°C). A hot oven is key to achieving biscuits with a golden-brown exterior and a tender, flaky interior.
2. Prepare the Buttermilk
If you don't have buttermilk, you can make a buttermilk substitute by adding 1 tablespoon of white vinegar or lemon juice to 3/4 cup of milk. Stir and let it sit for 5 minutes until it curdles.
3. Mix Dry Ingredients
In a large mixing bowl, whisk together the flour, baking powder, baking soda, sugar, and salt. Make sure the dry ingredients are well combined.
4. Cut in the Butter
Add the cold, cubed butter to the dry ingredients. Use a pastry cutter, two knives, or your fingers to work the butter into the dry mixture until it resembles coarse crumbs. This step is crucial for achieving a flaky texture.
5. Add Buttermilk
Pour in the buttermilk (or your buttermilk substitute) and stir gently with a wooden spoon or spatula until the dough comes together. Be careful not to overmix; a slightly shaggy dough is fine.
6. Shape the Biscuits
Turn the dough out onto a lightly floured surface. Pat it into a rectangle about 1/2 to 3/4 inch thick. Fold the dough in half, pat it down again, and repeat this process three more times. This folding technique creates layers in the biscuits.
7. Cut Out Biscuits
Using a round biscuit cutter or the rim of a glass, cut out biscuits from the dough. Avoid twisting the cutter; simply press it down and lift it up to keep the edges from sealing.
8. Bake
Place the biscuits on an ungreased baking sheet, with the sides touching. This helps the biscuits rise evenly. Bake in the preheated oven for 10-12 minutes or until they are golden brown.
9. Brush with Butter
As soon as the biscuits come out of the oven, brush the tops with melted butter. This step adds that signature KFC-style buttery flavor and sheen.
Serving Your Homemade KFC-Style Biscuits
These homemade biscuits are best served warm, straight from the oven. Enjoy them on their own, with a drizzle of honey, or as a side to your favorite fried chicken dish. Your family and friends will be impressed by your biscuit-making prowess, and your taste buds will thank you for the flaky, buttery goodness.
So, why wait? Get ready to savor the irresistible taste of homemade KFC-style biscuits that will have you coming back for seconds and thirds. Happy baking!
Variations and Tips
Cheesy Biscuits: For a cheesy twist, add 1 cup of shredded cheddar cheese to the dry mixture before adding the buttermilk. You'll have cheesy KFC-style biscuits that are perfect for breakfast or as a savory side dish.
Herb-Infused Biscuits: To infuse your biscuits with a burst of flavor, add 1-2 teaspoons of dried herbs like rosemary, thyme, or chives to the dry mixture. This will give your biscuits an aromatic and savory touch.
Crispier Tops: If you prefer your biscuit tops to be even crispier, you can brush them with a little extra melted butter immediately after removing them from the oven.
Storage: These biscuits are best enjoyed fresh. However, if you have leftovers, store them in an airtight container at room temperature for up to two days. Reheat them in the oven or toaster oven to maintain their texture.
Freezing: You can freeze unbaked biscuits. After cutting them out, place them on a baking sheet and freeze until solid. Then transfer them to a freezer-safe bag. When ready to bake, there's no need to thaw; simply bake from frozen, adding a few extra minutes to the baking time.
By following these tips and experimenting with variations, you can create your own unique spin on KFC-style biscuits, tailored to your taste preferences.
Conclusion
Homemade KFC-style biscuits are a delightful addition to any meal, from breakfast to dinner. With a few simple ingredients and some baking know-how, you can enjoy the flaky, buttery goodness of these biscuits right in your own kitchen.
So, gather your ingredients, preheat your oven, and get ready to savor the taste of homemade comfort food. Whether you enjoy them with fried chicken or as a standalone treat, these biscuits are sure to be a hit. Happy baking!